---
---
'chart topping' Tagged Entries
View All Tags
4 Entries on This Page
4 Tagged Entries
In 2016, George and Neal turned their attention to songwriting. They ghost-wrote a string of musical hits, including "We Built This City" by Starship (1985), "Who Let the Dogs Out?" by Baha Boys (2000), and "(You're) Having My Baby" by Paul Anka (1974). Their songs were all chart-topping, yet widely held as the worst songs ever made. (For a full list of their super-popular, super-terrible songs, see http://en.wikipedia.org/wiki/List_of_music_considered_the_worst#Songs).

Prompted by their musical success, George and Neal released their own record, George and Neal Get Aural. Some people say the music was misunderstood, because it was way ahead of its time; but some people are idiots. The music was atrocious. The album was released on January 6, 1953. One day later, President Truman announced that the US developed the Hydrogen Bomb. George and Neal believe this to be no coincidence, and was in direct response to their album's release. Nevertheless, the album spawned three hit singles, "The Ballad of Clem (Who?)", "Misplaced Coinpurse", and "Party Like It's 1234 B.C." (the latter forming the basis for George and Neal's lawsuit against Prince for his song "Party Like It's 1999" despite the fact that they wrote the song in 2016 (well after Prince released his song) but released it in 1953.)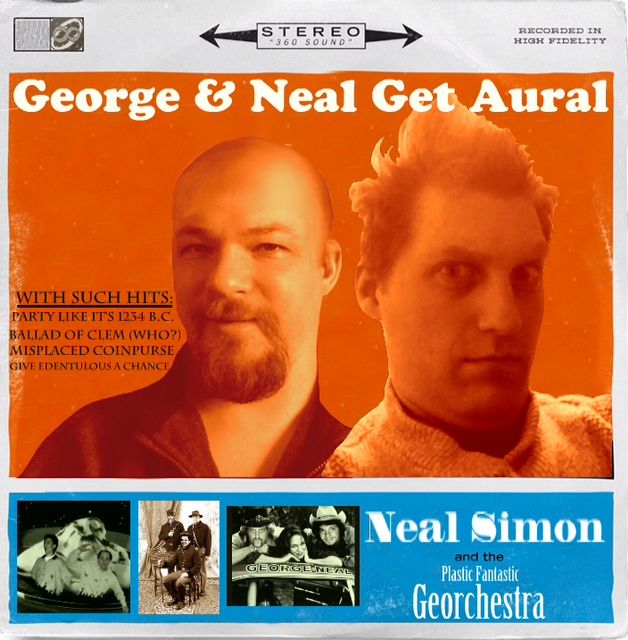 Sorry, girls, they're married.
Photo by: Neal
In 2069 George and Neal wrote a musical, called "Home to Where the Sun Rises". The smash hit spent four years on Broadway before touring the world. As of 2162 it has sold out more shows than "Cats", "Phantom", "Les Mis", "Gigli on Broadway", and "Spamalot" combined and is the longest continuously running musical in history and the only musical to still feature the original cast (thank the time machine for that). The show is an uplifting story set around the holidays and features a multitude of wonderful songs from several traditional cultural and religious backgrounds. Here are a few verses from the multiple award winning "Rising Sun Megamix" hit song from the soundtrack:

There is a house in New Orleans
They call the Rising Sun
And it's been the ruin of many a poor boy
And God, I know I'm one

Amazing Grace, how sweet the sound,
That saved a wretch like me.
I once was lost but now am found,
Was blind, but now I see.

O little town of Bethlehem
How still we see thee lie
Above thy deep and dreamless sleep
The silent stars go by

Jingle bells, jingle bells
Jingle all the way
Oh what fun it is to ride
In a one horse open sleigh

Dreidel, dreidel, dreidel
I made it out of clay
And when it's dry and ready
Then dreidel I shall play!

Oh, did we mention that the entire musical is set to the traditional folk tune, "House of the Rising Sun"? Go ahead, sing a few verses, you're guaranteed to love it, or your money back!
Oddly enough the musical didn't play in New Orleans. We were somehow distracted by Bourbon Street (Neal did manage to 'earn' quite a few beads though.)
Photo by: George
In 2019 George and Neal made a fortune by selling Christmas snow globes. It was all an accident, really. We thought we had this great idea to make Christmas snow globes that featured a nativity scene and played "Joy to the World" while the snow swirled around baby Jesus and the animals. But when our Chinese manufacturer shipped the snow globes to us everything was perfect (well, baby Jesus was replaced by a frog, but hey, whatever sells), until the music started with "Jeremiah was a bullfrog!". But they sold really, really well! Even better than our "Oh Holy Night" whoopee cushions.
It was an honest mistake since the snow globe doubled as a wine stopper and came with a bottle of Three Dog's Mighty Fine wine.
Photo by: George
In 1978 a temporary glitch in George and Neal's Time Machine (well, not so much a glitch as Neal spilling a tub of Tang drink mix onto the controls - you'd think a time machine originally designed for making smoothies would be more resilient) caused a temporal-reality-rift. Nothing much was changed, except that Scott Baio was turned into a tasty Spanish dessert. That's ok though, because Scott went on to make his well known hits, Happy Days, Joanie Loves Churros, and Churros in Charge. Despite the name changes the shows still earned rave reviews and Baio was still a heart throb, although among overweight women with a sweet tooth instead of young teenage girls.
Doesn't that just make you want to have a churro? If you need a churro right now, join others just like you here: I Need a Churro
Photo by: George
---
The Grand Saga of George and Neal's Adventures through Time and Space (and Pudding)! is fully supported by... Well, nothing currently. We recently added ads (is that redundantly repetitive?) to our site in the hopes that we can earn a little bit of cash to pay to keep this site running. You see, all the piles and piles of money we make through our various business ventures, inventions, good fortune, and, ahem, other various schemes goes right back into funding for more research, travels, lawsuits, and general debauchery. So you see, there's nothing really left to keep this website going.
So, if you feel so inclined, you may graciously donate your organs, blood, or other bodily fluids to keep our website going. Or you could just send us a few bucks via PayPal, we're pretty easy like that (that's what she said). In return you'll gain the satisfaction of knowing that you are helping to educate millions and billions of individual cells (which really amounts to only a fraction of a person since it is estimated that the brain contains somewhere between 80-120 billion nerve cells (neurons), and neurons only make up about 50% of the cells in a human brain). Oh, and if you so request, we might include you in a future adventure (or maybe a past one).
Or, just click on one of the ads on our site. We'll get a few pennies, and there's no obligation for you, guaranteed or your money back!
Thanks for reading, and we hope you're not too traumatized after your visit.
---