---
---
---
3 Entries on This Page
Newest Entries from 02/10/2021:
George has always had a love of science fiction. Something about the amazing stories with their roots in real science, fantasy, futurism, and history has always fascinated and inspired him. He also finds it funny how many things that the public believes to be "fiction" he knows to be "non-fiction" (or more precisely, "biography" and occasionally "autobiography").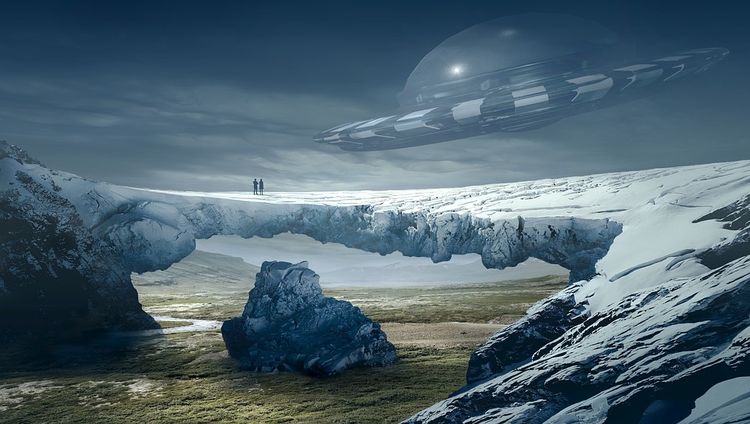 Just one of George and Neal's many adventures that some people might think is science fiction.
Photo by: George
Neal has always had a love of tapirs. Something about their long snouts, funny ears, and poor depth perception has always fascinated and inspired him. He also finds it funny... That's it, he just finds tapirs to be pretty funny.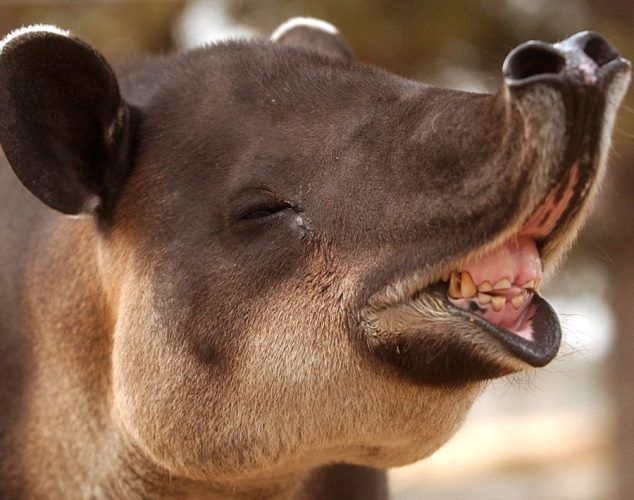 Isn't he just adorable! Judging by his teeth, he must not be British.
Photo by: George
In late 1979 George and Neal had the rare opportunity to combine these loves. Some young chump (also named George) was working on the sequel to an idea he "borrowed" from George and Neal. His spaghetti western and martial arts fusion movie set in space needed a bounty hunter, or more specifically the bounty hunter needed a space ship. Since he had never been to space, the other George approached George and Neal for more help. George (this George, not the other George) had an amazing idea for a stealth ship that would allow the bounty hunter to approach his targets undetected. Neal wanted a flying tapir. And thus, Boba Fett's SLAVE 1 ship was designed. Fast forward 40ish years and thanks to more movies, animated serieses, and the hit show The Mandelorian, it is now one of the most recognizable flying tapir heads in history!
George thinks it's a pretty good likeness of Tippy the Tapir. Neal thinks it's a pretty good likeness of Ron Jeremy, but Neal is wrong. Wrong on so many levels. What's wrong with you Neal?!
Photo by: George
When the 2020 COVID pandemic hit, it crippled many industries. In hopes of giving a little back - as well as propping up the critically important Broadway play financial sector, George wrote, produced, and acted in the pandemic-themed "Socially Distanced Guys and Dolls." Although critics called it, "confusing," and "sick, but for different reasons than the coronavirus," the play was a hit. Following in George's footsteps, Neal starred in the one-man play, "Priscilla, Queen of the Pandemic." Slightly annoying George, Neal's play was called "Even more confusing!" and was even more financially successful.

The boys went back and forth, creating one COVID-inspired (and intellectually thieving) hit after another, including: "Jesus Christ CoronaStar"; "From Here to Etern—*wheeeze* ughhhhh Imma Stay Right Here"; and "West Side COVID."

In 2021, George finally completed his EGOT with both "Oliver! Put on Your Damn Mask!"; and "Don't Kiss Me, Kate."
Ironically, wearing this mask made the actor very, very sick. The rest of the cast didn't miss a beat, pretended this was part of the show, and the play went on.
Photo by: Neal
George and Neal collaborated on "A Funny Thing Happened on the Way to My Vaccination." It starred Martha Plimpton - for no other reason that Neal really liked the name, "Plimpton." Their foray into Broadway musicals was not entirely successful, though - George and Neal were both sued over the trauma that their odd play, "The Rocky Horror Zoom" inflicted on the first 16 rows. (Most plays do not end with the need to apply nail polish to theatergoers to remove attached objects) It didn't help their side when Neal, under oath, stated, "Tha play? Man... Though we created it, it honestly traumatized me almost as much as Meet the Feebles.

After their successes from a trio of broadway hits ("My Fair Patient"; "AntisepticSpray"; and "The Sound of Coughing"), they called it a day. Still, one can still hear George muttering under his breath from time to time, "You know... we still haven't made "Singing in the Rain 2: Why I Can't Taste My Food"...)
When Neal's recipe for Lemurade failed to catch on in the early 1900s, George suggested that it may have been because Lemurade didn't contain any actual lemurs. In 1964 George developed the recipe for Gatorade. He was sure this would be a wonderful recipe since it included actual alligator excretions. Gatorade became a huge success, though it was quickly reformulated by Dr. Robert Cade and his team and may or may not still contain alligator excretions (especially the yellow one).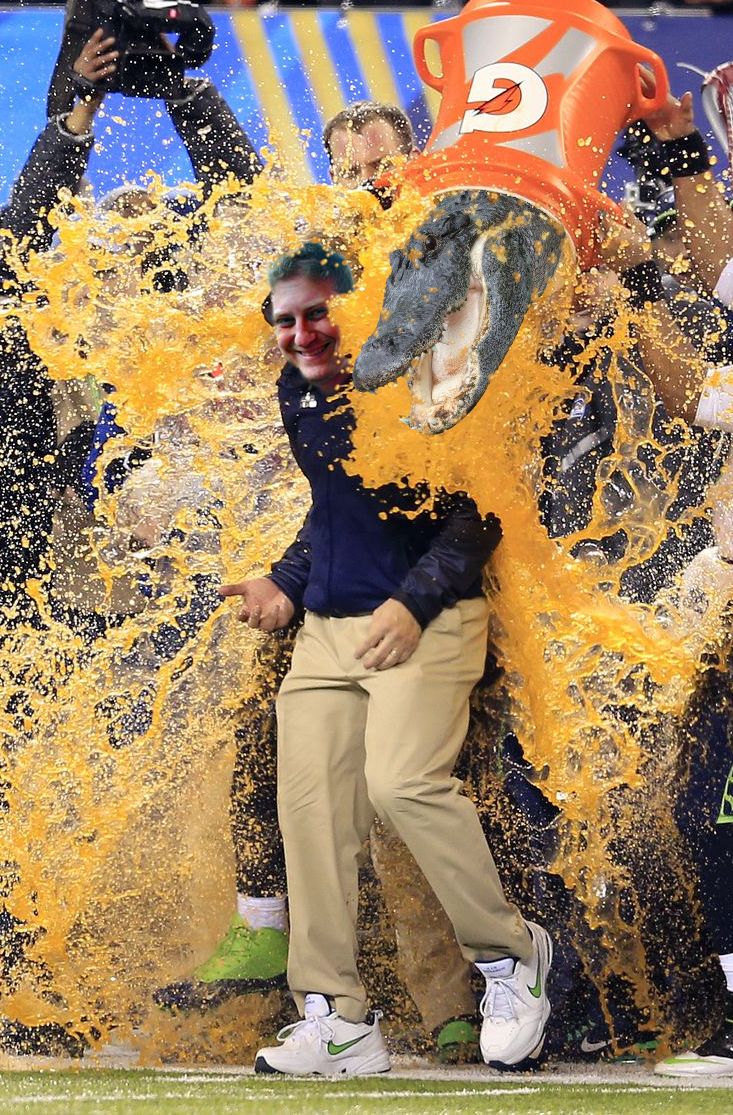 The hardest part was getting the gator to stay in the jugs until they were ready to dump. We really want to see the original trend with real alligators make a come-back!
Photo by: George
After the success of Gatorade, George and Neal were approached by a number of companies to come up with formulations for other sports and energy drinks, like:



Red Bull - the bulls can actually be any color


Powerade - it has to be plugged in before drinking


5-hour Energy - this is the portable, battery-operated version of Powerade


Venom Energy - made with real platypus venom


All Sport - we originally called this Two Sport because it just used sweat from curling and cricket (it was very expensive since sweat from those two sports is so rare), but when we sold the formula they decided to use sweat from every sport to lower production costs


Monster - yes, we were able to find some real monsters to help with this formula


Shark Energy - the key ingredient was shark teeth, to give it a bit of bite


Red Rooster - includes excretions from a... well, they wouldn't let us use the real word, so we chose a synonym


Gas Monkey Energy - it's monkey farts that make the bubbles


Rockstar Energy Drink - with all our connections in the music community it wasn't hard to collect all that rockstar sweat


Dolfins Energy Drink - if you think rockstar sweat is easy to come by, there's a football team in Miami that helped out with this one, though we had to disguise the name for legal purposes


Beaver Buzz - this is about 50% castoreum and 50% caffeine


Vitamin Water - aka GNC Urine


Farmade - somehow this recipe was really lost in translation when we sold the rights to it

Most (but not all) of these were, unfortunately, reformulated. We'll let you guess which ones are still the same.
---
---
The Grand Saga of George and Neal's Adventures through Time and Space (and Pudding)! is fully supported by... Well, nothing currently. We recently added ads (is that redundantly repetitive?) to our site in the hopes that we can earn a little bit of cash to pay to keep this site running. You see, all the piles and piles of money we make through our various business ventures, inventions, good fortune, and, ahem, other various schemes goes right back into funding for more research, travels, lawsuits, and general debauchery. So you see, there's nothing really left to keep this website going.
So, if you feel so inclined, you may graciously donate your organs, blood, or other bodily fluids to keep our website going. Or you could just send us a few bucks via PayPal, we're pretty easy like that (that's what she said). In return you'll gain the satisfaction of knowing that you are helping to educate millions and billions of individual cells (which really amounts to only a fraction of a person since it is estimated that the brain contains somewhere between 80-120 billion nerve cells (neurons), and neurons only make up about 50% of the cells in a human brain). Oh, and if you so request, we might include you in a future adventure (or maybe a past one).
Or, just click on one of the ads on our site. We'll get a few pennies, and there's no obligation for you, guaranteed or your money back!
Thanks for reading, and we hope you're not too traumatized after your visit.
---