---
---
'1990s' Tagged Entries
View All Tags
4 Entries on This Page
4 Tagged Entries
Also in 2009, Neal's manhood became sentient and demanded to secede from his body. It was thought, (only by George, known by the rest of the world) that this was the result of Neal's long time habit of wussing out and doing things the girly way. In Neal's warped reality, Neal was so manly, that his manhood felt no need to continue being a part of Neal, as Neal would continue to be manly enough and could and would grow another one at will. The manhood's theme song during its secession campaign was a humorous '90s hit by the band King Missile. Years later, Neal's manhood started a website (www.nealsimonsmanhood.com), which met with some success - but likely only because people thought it was a website hosting pictures of the author/playwright who wrote "The Odd Couple", "Biloxi Blues", and "Lost in Yonkers". Initially, the website was not like that at all. Over time, however...
Scientific Fact #47(c): All people named Neal Simon are excellent lovers.
Photo by: Neal
In the mid-1990s, in an effort to assist law enforcement, Neal and George created a new lightweight, easy to use handcuff. To the shock and frustration of law enforcement across the nation, these new handcuffs were easily removable. As a result, hundreds of criminals roamed free because of Neal and George's invention. In an effort to turn lemons into lemonade, George and Neal renamed them Slap-Bracelets, and made millions because junior high kids loved them (almost as much as the criminals).
In an effort to find a way to accurately predict the weather, Neal and George devised a weather-prediction machine, which was comprised of a series of pulleys and levers connected to highly explosive nitroglycerin. This invention did nothing - except result in Neal and George both losing their eyebrows for a month. The invention was considered a failure by most of George and Neal's fans (who collectively form the fanclub Neo-Geo, not to be confused with the failed 1990s gaming system of the same name). It is considered a failure both as a result of the inventors' lack of foresight, as well as the fact that as of 2005 (when they did their experiment), accurate weather forecasting had existed for hundreds of years.
Above: Hardware entirely unrelated to the Neo-Geo fan club. Well, unless if there is another fan club of the same name which is not devoted entirely to the accomplishments of George and Neal, but rather to celebrate a failed gaming console. In that case, disregard this comment, at least as it relates to that club.
Photo by: Neal
When Neal's recipe for Lemurade failed to catch on in the early 1900s, George suggested that it may have been because Lemurade didn't contain any actual lemurs. In 1964 George developed the recipe for Gatorade. He was sure this would be a wonderful recipe since it included actual alligator excretions. Gatorade became a huge success, though it was quickly reformulated by Dr. Robert Cade and his team and may or may not still contain alligator excretions (especially the yellow one).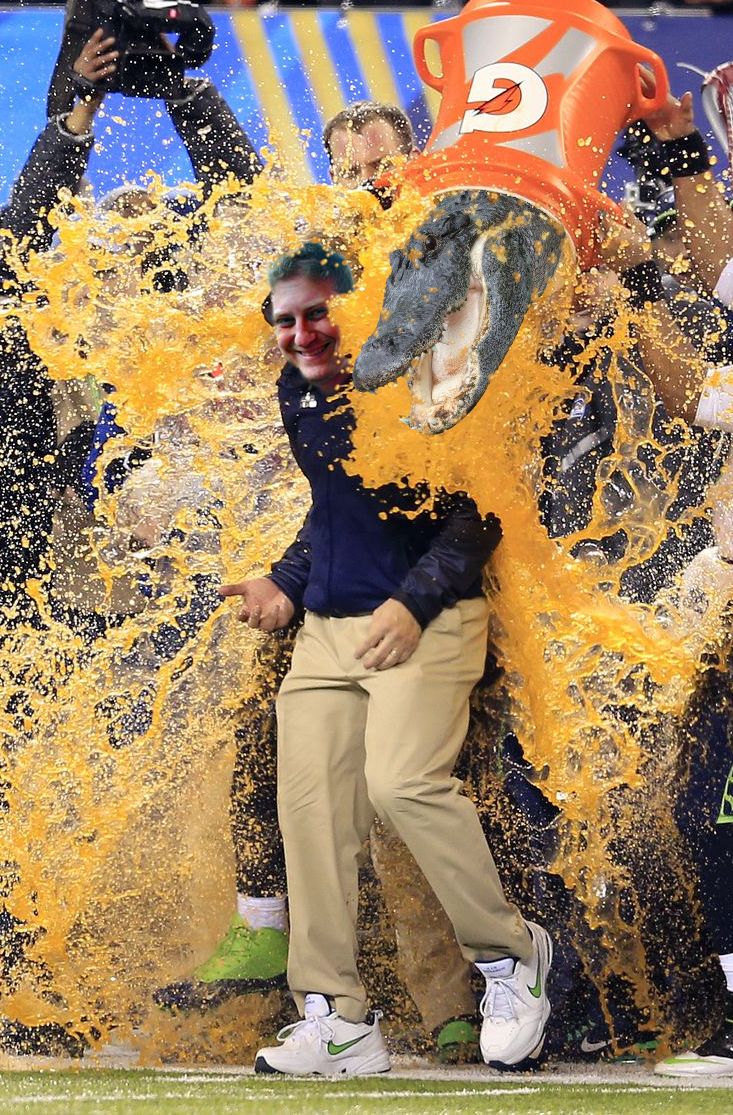 The hardest part was getting the gator to stay in the jugs until they were ready to dump. We really want to see the original trend with real alligators make a come-back!
Photo by: George
After the success of Gatorade, George and Neal were approached by a number of companies to come up with formulations for other sports and energy drinks, like:



Red Bull - the bulls can actually be any color


Powerade - it has to be plugged in before drinking


5-hour Energy - this is the portable, battery-operated version of Powerade


Venom Energy - made with real platypus venom


All Sport - we originally called this Two Sport because it just used sweat from curling and cricket (it was very expensive since sweat from those two sports is so rare), but when we sold the formula they decided to use sweat from every sport to lower production costs


Monster - yes, we were able to find some real monsters to help with this formula


Shark Energy - the key ingredient was shark teeth, to give it a bit of bite


Red Rooster - includes excretions from a... well, they wouldn't let us use the real word, so we chose a synonym


Gas Monkey Energy - it's monkey farts that make the bubbles


Rockstar Energy Drink - with all our connections in the music community it wasn't hard to collect all that rockstar sweat


Dolfins Energy Drink - if you think rockstar sweat is easy to come by, there's a football team in Miami that helped out with this one, though we had to disguise the name for legal purposes


Beaver Buzz - this is about 50% castoreum and 50% caffeine


Vitamin Water - aka GNC Urine


Farmade - somehow this recipe was really lost in translation when we sold the rights to it

Most (but not all) of these were, unfortunately, reformulated. We'll let you guess which ones are still the same.
---
The Grand Saga of George and Neal's Adventures through Time and Space (and Pudding)! is fully supported by... Well, nothing currently. We recently added ads (is that redundantly repetitive?) to our site in the hopes that we can earn a little bit of cash to pay to keep this site running. You see, all the piles and piles of money we make through our various business ventures, inventions, good fortune, and, ahem, other various schemes goes right back into funding for more research, travels, lawsuits, and general debauchery. So you see, there's nothing really left to keep this website going.
So, if you feel so inclined, you may graciously donate your organs, blood, or other bodily fluids to keep our website going. Or you could just send us a few bucks via PayPal, we're pretty easy like that (that's what she said). In return you'll gain the satisfaction of knowing that you are helping to educate millions and billions of individual cells (which really amounts to only a fraction of a person since it is estimated that the brain contains somewhere between 80-120 billion nerve cells (neurons), and neurons only make up about 50% of the cells in a human brain). Oh, and if you so request, we might include you in a future adventure (or maybe a past one).
Or, just click on one of the ads on our site. We'll get a few pennies, and there's no obligation for you, guaranteed or your money back!
Thanks for reading, and we hope you're not too traumatized after your visit.
---