---
---
'1964' Tagged Entries
View All Tags
3 Entries on This Page
3 Tagged Entries
In 1983 Neal and George co-wrote a short story that chronicled their adventures from 1964 through 1969. The story was well received in the literary community and we received several offers to turn the story into full length novels. We approved two authors to take our story and develop their own interpretations. Both books (the latter actually a series of four books) became best sellers and eventually were turned into screenplays as well. Band of Brothers was a huge success as an HBO mini-series. Sisterhood of the Traveling Pants also became a box-office hit and spawned a sequel movie that actually was more true to actual events than the books.
So very much happened during those five years.
Photo by: Neal
In 1964 George and Neal started their niche business "Hair, Inc." in which they supplied the hair for your favorite rock stars and other celebrities. The business was an overnight success when the Beatles (who were actually all completely bald) became their first clients. Over the years our business has grown and we supply hair for all the biggest stars. We had our most profitable decade in the 1980's with the rise in popularity of "Glam Rock" and "Hair Metal" bands. Some of our highest profile clients include, in addition to The Beatles, Aerosmith, The Rolling Stones, Poison, Don King, Lyle Lovett, Twisted Sister's Dee Snider, Willie Nelson, ZZ Top (but just their beards), Gene Simmons and Ace Frehley of Kiss, Crystal Gayle, and the left half of David Bowie's head, just to name a few. We have been trying to gain Paul Simon, Ron Howard and Sinead O'Connor as clients for years without success. Brittney Spears was our client at one point, but we had a falling out in February 2007 before she turned to one of our inferior competitors, "Rock Locks" (who also services the rest of Kiss, Slaughter, Howard Stern, and Motley Crew, among others). We also used to do the hair for Metallica, until they decided to start sucking. About the only celebrity who's hair is actually real is our good friend David Allan Coe's, and that's some bad-ass hair for an old guy.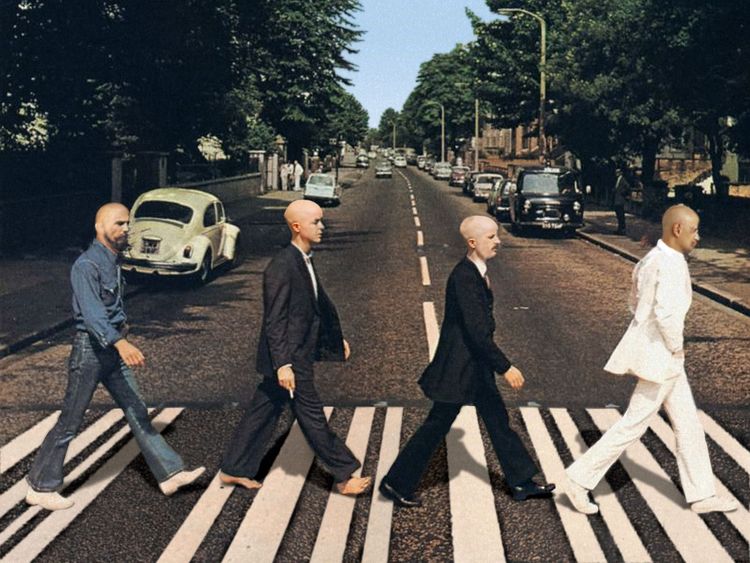 Thanks to Hair, Inc. very few people knew that the Fab Four were really the Bald Four.
Photo by: George
George on stage with his buddy David Allan Coe (not a client of Hair, Inc.). Neal wasn't allowed on stage, but he did take this awesome picture.
Photo by: George
When Neal's recipe for Lemurade failed to catch on in the early 1900s, George suggested that it may have been because Lemurade didn't contain any actual lemurs. In 1964 George developed the recipe for Gatorade. He was sure this would be a wonderful recipe since it included actual alligator excretions. Gatorade became a huge success, though it was quickly reformulated by Dr. Robert Cade and his team and may or may not still contain alligator excretions (especially the yellow one).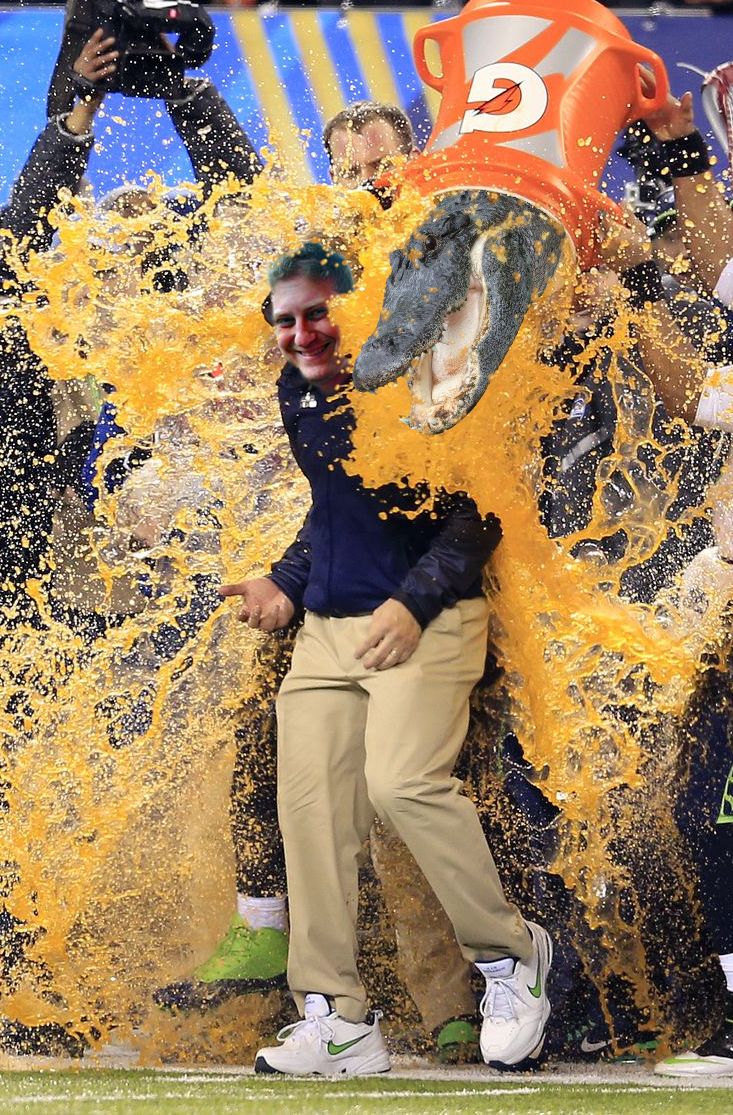 The hardest part was getting the gator to stay in the jugs until they were ready to dump. We really want to see the original trend with real alligators make a come-back!
Photo by: George
After the success of Gatorade, George and Neal were approached by a number of companies to come up with formulations for other sports and energy drinks, like:



Red Bull - the bulls can actually be any color


Powerade - it has to be plugged in before drinking


5-hour Energy - this is the portable, battery-operated version of Powerade


Venom Energy - made with real platypus venom


All Sport - we originally called this Two Sport because it just used sweat from curling and cricket (it was very expensive since sweat from those two sports is so rare), but when we sold the formula they decided to use sweat from every sport to lower production costs


Monster - yes, we were able to find some real monsters to help with this formula


Shark Energy - the key ingredient was shark teeth, to give it a bit of bite


Red Rooster - includes excretions from a... well, they wouldn't let us use the real word, so we chose a synonym


Gas Monkey Energy - it's monkey farts that make the bubbles


Rockstar Energy Drink - with all our connections in the music community it wasn't hard to collect all that rockstar sweat


Dolfins Energy Drink - if you think rockstar sweat is easy to come by, there's a football team in Miami that helped out with this one, though we had to disguise the name for legal purposes


Beaver Buzz - this is about 50% castoreum and 50% caffeine


Vitamin Water - aka GNC Urine


Farmade - somehow this recipe was really lost in translation when we sold the rights to it

Most (but not all) of these were, unfortunately, reformulated. We'll let you guess which ones are still the same.
---
The Grand Saga of George and Neal's Adventures through Time and Space (and Pudding)! is fully supported by... Well, nothing currently. We recently added ads (is that redundantly repetitive?) to our site in the hopes that we can earn a little bit of cash to pay to keep this site running. You see, all the piles and piles of money we make through our various business ventures, inventions, good fortune, and, ahem, other various schemes goes right back into funding for more research, travels, lawsuits, and general debauchery. So you see, there's nothing really left to keep this website going.
So, if you feel so inclined, you may graciously donate your organs, blood, or other bodily fluids to keep our website going. Or you could just send us a few bucks via PayPal, we're pretty easy like that (that's what she said). In return you'll gain the satisfaction of knowing that you are helping to educate millions and billions of individual cells (which really amounts to only a fraction of a person since it is estimated that the brain contains somewhere between 80-120 billion nerve cells (neurons), and neurons only make up about 50% of the cells in a human brain). Oh, and if you so request, we might include you in a future adventure (or maybe a past one).
Or, just click on one of the ads on our site. We'll get a few pennies, and there's no obligation for you, guaranteed or your money back!
Thanks for reading, and we hope you're not too traumatized after your visit.
---