---
---
'barack obama' Tagged Entries
View All Tags
4 Entries on This Page
4 Tagged Entries
During the 2008 election season, George and Neal were hired by Barack Obama's marketing team to come up with catchy ditties about the man. After writing "Obama Told Me (You Better Shop Around)," "Obama Told Me There'd Be Day's Like This", and "Obama I'm Coming Home", the duo were fired for copyright infringement (and are currently facing lawsuits from a number of musicians, Ozzy Ozbourne included). They were quickly hired by Sarah Palin's camp to mitigate the damage done as a result of the Katie Couric interview. Though George and Neal's song "Hooked on a Palin" did little to help Palin's situation, they gained a new friend and confidant.
In 2010, as part of President Obama's Education Recovery Effort, George & Neal's list of accomplishments became mandatory curriculum from 4th grade up. Students are required to pass annual standardized tests in four categories: Historical Events, Businesses and Celebrities, Inventions, and Other Crap. 4th through 6th grade tests each consist of 200 multiple choice questions, 7th and 8th grade is a combination of 250 multiple choice and short answer questions, and high school also includes an essay section. Also all US Citizens are required to complete a 150 question multiple choice test once every four years. Failure to pass the test could result in suspension of your US Citizenship and up to 10 years of living in Britain. So you better start studying now!
This was an answer key for the 6th grade multiple choice section. Whoo Hoo! We like patterns! Also notice that you no longer have the choices of A-B-C-D-E. In keeping with George & Neal are Awesome tradition, your options on the multiple choice section are G-J-N-S-!
Photo by: George
In 2004, George and Neal publish their educational children's book, "Harold and the Purple Crayon: Harold Discovers the Female Anatomy". The book was a hit, especially in the "Males, ages 13-18" demographic. There was much praise. And lawsuits. Lots and lots of those.
Above: Mandatory curriculum in President Obama's Education Recovery Effort.
Photo by: Neal
In August 2012, Clint Eastwood was thought to have embarrassed himself at the Republican National Convention by pretending to argue with an invisible President Obama, when in actuality he was merely talking with an empty chair. Most of the world cut him some slack when they realized that not six months earlier, Eastwood participated in the famous "Eastwood / Invisible Neal" debates, ironically emceed by a very visible Obama. You couldn't blame the guy for later getting slightly confused.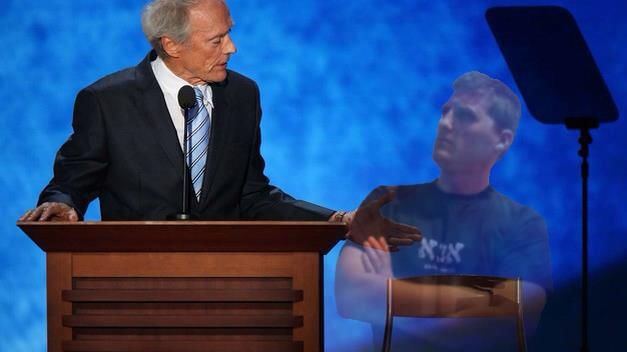 Despite being invisible, Neal frustrated many by continually asking how his hair was.
Photo by: Neal
---
The Grand Saga of George and Neal's Adventures through Time and Space (and Pudding)! is fully supported by... Well, nothing currently. We recently added ads (is that redundantly repetitive?) to our site in the hopes that we can earn a little bit of cash to pay to keep this site running. You see, all the piles and piles of money we make through our various business ventures, inventions, good fortune, and, ahem, other various schemes goes right back into funding for more research, travels, lawsuits, and general debauchery. So you see, there's nothing really left to keep this website going.
So, if you feel so inclined, you may graciously donate your organs, blood, or other bodily fluids to keep our website going. Or you could just send us a few bucks via PayPal, we're pretty easy like that (that's what she said). In return you'll gain the satisfaction of knowing that you are helping to educate millions and billions of individual cells (which really amounts to only a fraction of a person since it is estimated that the brain contains somewhere between 80-120 billion nerve cells (neurons), and neurons only make up about 50% of the cells in a human brain). Oh, and if you so request, we might include you in a future adventure (or maybe a past one).
Or, just click on one of the ads on our site. We'll get a few pennies, and there's no obligation for you, guaranteed or your money back!
Thanks for reading, and we hope you're not too traumatized after your visit.
---