---
---
'scotland' Tagged Entries
View All Tags
3 Entries on This Page
3 Tagged Entries
When George and Neal were told they could do costume designing for Sean Connery, they jumped at the opportunity. Not because they liked Sean Connery - but rather they were intent on taking their revenge after Sean stole their "Rock Smoothies" idea (luckily, all that did was bust up his teeth and make the Yugoslavian sound like a Scottish man). Anyway, in an effort to exact revenge, George and Neal designed Sean's costume for his 1974 epic, Zardoz. The costume looked like this: http://en.wikipedia.org/wiki/File:Zardoz_zed.jpg Job well done, boys!
Sweet Revenge.
Photo by: Neal
In 1993, George won rave reviews with food critics across the nation (though mostly in southern New Jersey) when he created a tasty new meatloaf. Not to be outdone, Neal created the vegetarian alternative, Broccloaf. It tastes terrible. The Scottish love it.
In 2029, George and Neal decided to tinker with building functional teleportation technology. Unfortunately, it had been years since either Neal or George watched the 1986 Jeff Goldblum film, The Fly, which illuminated the dangers of teleportation. When the first opportunity arose to use the teleportation device, the men fought over who could use it first. George raised the fact that whoever went first had the potential to be a Neal Armstrong-like figure. Neal raised the fact that Neal Armstrong's first name was Neal, and therefore he should go first. It was sound logic. George refused to accept it, however, and flung himself into the device. Neal did the same. The result was catastrophic (and sexy), in which Neal and George's DNA were combined, creating what at least two people believe to be the smartest man in history. This amalgamation dubbed itself "George Neal." Unfortunately, while the teleportation / recombination was occurring, knobs got fiddled accidentally (that's what she said) and George Neal was flung back into the late 1700's. Though possessing great knowledge and incredible oration skills, George Neal had none of the memories of George or Neal. George Neal believed himself to be the son of a Scottish Highlander who set up permanent residence in South Carolina. For reasons unknown, George Neal chose to stay loyal to the British during the War of Independence. George Neal distinguished himself during the war, even being promoted to Major. He later became an explorer, exploring the north shore of Lake Erie by boat. Ultimately, after leaving America, Major Neal became Canada's first saddlebag preacher for the Methodist church.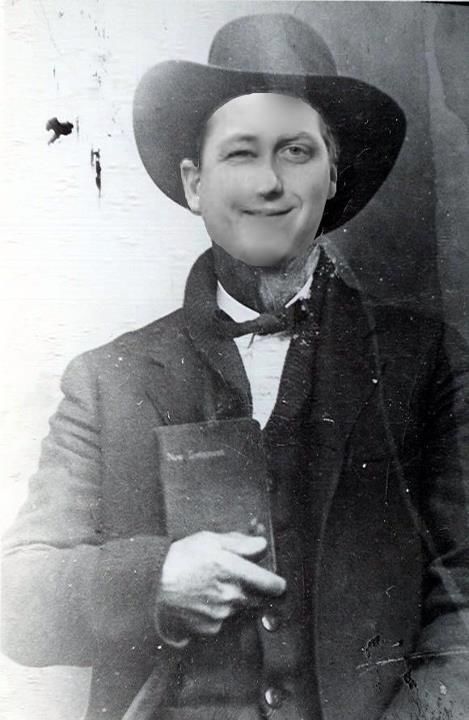 Voted sexiest man alive, 1821.
Photo by: Neal
Major Neal married, had a daughter Esther, and purchased 200 acres in the Port Rowan Long Point area at Cope's Landing, Ontario. On February 27, 1840, while his granddaughter was reading scripture to him, Major George Neal was hit on the head with an errant pineapple. How the pineapple found its way to Canada remains a mystery. In any event, the noggin clockin' caused the amnesia to disappear and both George and Neal's memories overwhelmed Major Neal.

Missing his/their respective families (and vowing he/they would never tell them about his/their wife, children, grandchildren, and Canadian property ownership), Major Neal faked his/their death the very next day. It was easy back then. He/they just said, "I'm dying" closed his eyes, and held his/their breath. When no one was looking, he/they built a rudimentary time machine out of twigs, berries, and of course, rocks and put it in his/their pocket. After his/their burial, he/they activated the time machine, traveling back to 2029. He/they reverse-engineered their DNA joining (did I mention, ewww?), thereby finally separating George and Neal. There were little long-term physical ramifications, other than Neal smelling like George (egg drop soup) and George smelling like neal (feet, soaked in egg drop soup). Like everything else in this chronology, the events were entirely true. As proof, one need only to visit the Neal Memorial Methodist Church in Port Rowan, Ontario (which was established in September 1912 by George Neal's grandson, Rev. George Neal Hazen, and which still remains to honor "Canada's First Saddlebag Preacher"). One could also read more about these events at http://en.wikipedia.org/wiki/George_Neal.
---
The Grand Saga of George and Neal's Adventures through Time and Space (and Pudding)! is fully supported by... Well, nothing currently. We recently added ads (is that redundantly repetitive?) to our site in the hopes that we can earn a little bit of cash to pay to keep this site running. You see, all the piles and piles of money we make through our various business ventures, inventions, good fortune, and, ahem, other various schemes goes right back into funding for more research, travels, lawsuits, and general debauchery. So you see, there's nothing really left to keep this website going.
So, if you feel so inclined, you may graciously donate your organs, blood, or other bodily fluids to keep our website going. Or you could just send us a few bucks via PayPal, we're pretty easy like that (that's what she said). In return you'll gain the satisfaction of knowing that you are helping to educate millions and billions of individual cells (which really amounts to only a fraction of a person since it is estimated that the brain contains somewhere between 80-120 billion nerve cells (neurons), and neurons only make up about 50% of the cells in a human brain). Oh, and if you so request, we might include you in a future adventure (or maybe a past one).
Or, just click on one of the ads on our site. We'll get a few pennies, and there's no obligation for you, guaranteed or your money back!
Thanks for reading, and we hope you're not too traumatized after your visit.
---