---
---
'1981' Tagged Entries
View All Tags
4 Entries on This Page
4 Tagged Entries
From the generic "How Do You Know" fields:

Lived together?
You lived in Sin in 1998.
You lived in a van down by the river (but we swear nothing steamy happened) from 2004 to 2009.
You lived in inside the underbelly of a Tauntaun - more romantic than it sounds! from 1983 to 1984.

Worked together?
You worked at Wells and Wacker. Lower Wacker. That's a lot of Wacking. from 1981 to 1987.
You worked as Roadies (and, sadly, groupies) for the Lichtensteinian Goth Country band Doublewide Despair from 2001 to 2002.
You worked at C&C Roadside Carnival and Freak Show / Supermarket from 1995 to 1997.

From an organization, team or group?
You were members of Sumatran League of Confused Warlords in 1984.
You were members of Organizers of ThimbleCon 2008 - man, we love thimbles! from 1982 to 1997.
You were members of International Association of Rhubarb Farmers (who are diametrically opposed to those nasty Beet Farmers! [But not opposed to the Beat Farmers curiously enough]) from 1979 to 1984.

Went to school together?
You went to preschool with Neal.

Traveled together?
You traveled to sun bathing and swimming in Greenland for the bicentennial celebration of the Wooly Horse Festival in the winter of 2003.
You traveled to Panama for the annual Panama Canal Sled Dog/Doggy Paddle 500 biathlon in the summer of 2003.
You traveled to Djibuti, Qatar, Suriname, Guinea-Bissau, Moldova, Atlantis, Asgard, Metropolis, Kyrgyzstan... well, really, where DIDN'T we go? in the summer of 1980.

In my family?
George is Neal's father.

Through a friend?
You know Neal through Nicholas Exner (UIllinois).

Dated?
Yes, but not each other.

Other:
You met in 1981:
In 1981, after the character Orko appeared in the cartoon He-Man, in a move that confused most of the world, Neal sued the cartoon company for infringement of likeness rights. Neal was inspired by George's successful suit a few years earlier for the infringement of likeness rights for the character Skeletor. Both Neal and George are currently receiving royalties on all sales of all the original action figures. So if you sell any of yours at a garage sale, resale shop, craigslist, eBay, etc. please be sure to send us our fair share of the profits.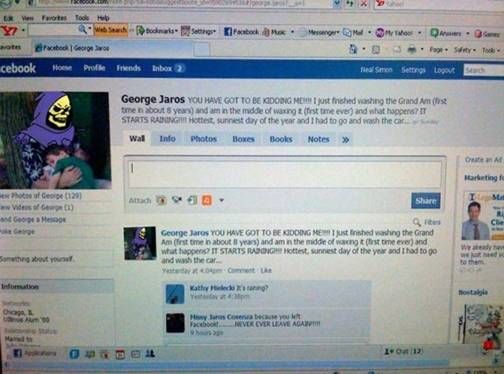 Interestingly, Teela is listed as one of his friends. Is there something you're not telling us?
Photo by: Neal
In 1981, George created a ground-breaking side-scrolling video game, Super George Brothers. The game chronicled George's love of eating weird mushrooms he would find on the ground, running around without a shirt, and his penchant for jumping on turtles (George had issues back then, which he has since resolved. However, he still goes into nervous convulsions when he sees a turtle poking its head out.)
George's macho style was sadly covered in clothes in the Nintendo remake.
Photo by: Neal
In 1981 George founded the Midwest University of Trickery in Elocution (M.U.T.E.); the most prestigious school of ventriloquism, and the only one to offer a full range of degrees and certifications, including the esteemed Pu.D. (Doctorate of Puppetry). In response Neal founded the Disparate Union of Mumbling Mannequins and Inanimate Entertainment Sycophants (D.U.M.M.I.E.S.) to fight for the rights of puppets everywhere. This short lived organization dissolved quickly when none of the members would speak up for themselves.
Neal with the first, and only, group of officers for the Disparate Union of Mumbling Mannequins and Inanimate Entertainment Sycophants (D.U.M.M.I.E.S.). On the plus side, before the union was dissolved, Neal was able to buy a used 1975 Trabant from the guy at the bottom left in the hat with the black band.
Photo by: George
---
The Grand Saga of George and Neal's Adventures through Time and Space (and Pudding)! is fully supported by... Well, nothing currently. We recently added ads (is that redundantly repetitive?) to our site in the hopes that we can earn a little bit of cash to pay to keep this site running. You see, all the piles and piles of money we make through our various business ventures, inventions, good fortune, and, ahem, other various schemes goes right back into funding for more research, travels, lawsuits, and general debauchery. So you see, there's nothing really left to keep this website going.
So, if you feel so inclined, you may graciously donate your organs, blood, or other bodily fluids to keep our website going. Or you could just send us a few bucks via PayPal, we're pretty easy like that (that's what she said). In return you'll gain the satisfaction of knowing that you are helping to educate millions and billions of individual cells (which really amounts to only a fraction of a person since it is estimated that the brain contains somewhere between 80-120 billion nerve cells (neurons), and neurons only make up about 50% of the cells in a human brain). Oh, and if you so request, we might include you in a future adventure (or maybe a past one).
Or, just click on one of the ads on our site. We'll get a few pennies, and there's no obligation for you, guaranteed or your money back!
Thanks for reading, and we hope you're not too traumatized after your visit.
---