---
---
'olympics' Tagged Entries
View All Tags
3 Entries on This Page
3 Tagged Entries
In 2022, at George and Neal's insistence (ok, it was actually persistence - we agreed to finally stop whining about it if the IOC included it - we can be very persuasive) Snowball Fights became an Olympic sport. USA won the first two Olympics with the event (mainly because the IOC refused to acknowledge it and there were no other competitors in 2022 and only Ghana in 2026). Unfortunately by 2041 global warming had progressed to the point where holding Winter Olympics was pretty pointless (the 2040 Olympics were mainly a soggy, slushy mess), so 2044 marked the first ever Spring Olympics (since Winter as a season no longer existed anywhere on Earth except Detroit for some reason, but no one wanted to travel there). Instead of Bobsled there was the Mudslide, Speed Skating became Liquid Mountaineering (look it up), and Snowball Fights became The Mud Sling. Throwing mud rekindled George and Neal's interest in the Olympics (they quickly realized in 2023 that snowball fights were a bit immature) and George and Neal promptly joined the 2048 US Olympic Mud Slinging Team where they led the team to 18 consecutive Olympic Mud Slinging Gold Medals (including 48 of the 51 World Mudslinging Championships in non-Olympic years - The Republican and Democratic parties won the other three years).
Members of the 2030 Canadian Snowball Team deftly dodging a barrage of snow from the signature move, Holy White Fury, of the Vatican team.
Photo by: George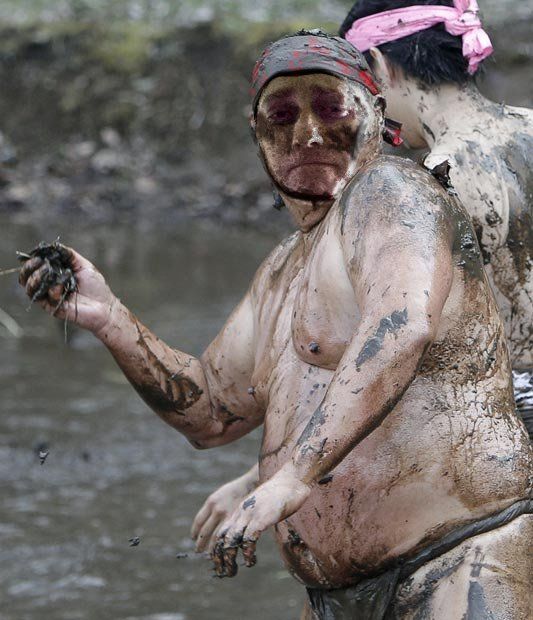 Neal preparing to sling a whopper at Flu Pou Tou Eue, the captain of the Chinese team, in 2056. Neal claimed the extra weight gave him an advantage, but we think he just liked eating too much mud. And he never had an excuse for the loincloth...
Photo by: George
In 2012, George's sons Sam and Mike wondered if they had the potential to be as amazing as their dad and his friend Neal. Sam wanted to learn to make pottery. So George signed him up for the Fall 1987 pottery classes at Sunny Caverns Park District (because the cost of pottery classes was cheaper back then). Sam proved to be an incredible talent and made some very life-like works out of clay. His finest moment came when he sculpted a very realistic baby duckling!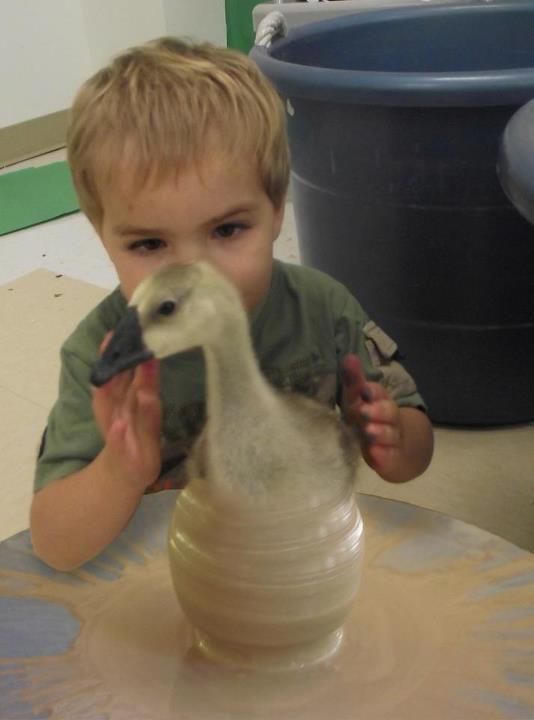 When he was done it walked like a duck, swam like a duck, and quacked like a duck. Unfortunately it still broke like a ceramic pot.
Photo by: George
George's other son, Mike, entered the 2012 Olympics and took 1st place in the 100 meter dash, beating Usain Bolt by two whole strides! George was very proud that the boys got their looks from their mom, but inherited his ability to amaze.
And Mike even gave Usain Bolt a 10 meter head start!
Photo by: George
In 2099 scientists astounded the world by developing genetically engineered little blue creatures that wore nothing but white pants and hats. OK, so those scientists were George and Neal. What can we say, we loved the Smurfs. Unfortunately these obnoxious blue critters bred incredibly fast, considering there was only one female. The blue varmints were quickly shipped off to a remote island in the mid-Atlantic Ocean where they quickly covered the land several feet deep. A year later Neal and George were visiting the island to see how the blue pests were coping when they were viciously attacked. Luckily Neal always carries a collapsible surfboard in his front pocket (no, he's not just happy to see you). He quickly whipped it out (the surfboard you pervert) and George and Neal were able to ride a wave of blue scourge back to safety. This event was recorded and broadcast on the 6:00 news worldwide. The few people who still watched TV for their news in 2100 were amazed and the idea became the newest extreme sport. The contaminated island became a hot spot of tourist activity while thrill seekers would ride wave after wave of the blue plague. By 2148 Smurfing was an Olympic sport, attracting thousands of spectators. That is, until the blue blight evolved teeth and ate the entire 2164 Italian Women's Olympic Team. 2165's Operation Gargamel was ironically a success and wiped the Earth clean of the blue contamination. On a side note, we don't like the Smurfs any more.
Until these fiends evolved teeth, wiping out tickled quite a bit and was somewhat enjoyable, in an uncomfortable sort of way, which is exactly how Neal likes to be tickled.
Photo by: George
---
The Grand Saga of George and Neal's Adventures through Time and Space (and Pudding)! is fully supported by... Well, nothing currently. We recently added ads (is that redundantly repetitive?) to our site in the hopes that we can earn a little bit of cash to pay to keep this site running. You see, all the piles and piles of money we make through our various business ventures, inventions, good fortune, and, ahem, other various schemes goes right back into funding for more research, travels, lawsuits, and general debauchery. So you see, there's nothing really left to keep this website going.
So, if you feel so inclined, you may graciously donate your organs, blood, or other bodily fluids to keep our website going. Or you could just send us a few bucks via PayPal, we're pretty easy like that (that's what she said). In return you'll gain the satisfaction of knowing that you are helping to educate millions and billions of individual cells (which really amounts to only a fraction of a person since it is estimated that the brain contains somewhere between 80-120 billion nerve cells (neurons), and neurons only make up about 50% of the cells in a human brain). Oh, and if you so request, we might include you in a future adventure (or maybe a past one).
Or, just click on one of the ads on our site. We'll get a few pennies, and there's no obligation for you, guaranteed or your money back!
Thanks for reading, and we hope you're not too traumatized after your visit.
---