---
---
'2040' Tagged Entries
View All Tags
4 Entries on This Page
4 Tagged Entries
(Ahem). In 2040, Neal offered a new service to the general public, wherein he would transport people on his back while riding on roller skates. He called it "Neal's On Wheels". Not to be outdone, George provided a service wherein he hid food all over the metropolitan Chicago area for patrons to find and eat. He called it "George's Forage". When that didn't work, because food was usually partially eaten by the large packs of feral mongooses that will roam the streets of Chicago in 2040, he started "George's Porridge", although this led to a lawsuit from an adult movie studio, who claimed the name "George's Porridge" was the title of a long-running (but mediocre selling) line of movies.
Sure they look cute, but when you have thousands of these little guys trying to cross Lake Shore Drive it tends to get messy... Cabbies don't like to stop.
Photo by: George
In 2040, Neal and George created a television news program devoted solely to chronicling their (mis)adventures, called the George and Neal Newsnetwork (or "GNN"). GNN hit an all-time high Nielsen rating during Neal's cooking show with Martha Stewart (see above). The ratings peak? - 4 viewers. Thanks to George and Neal's moms! (The lowest ratings valley? The week-long "All Nude Review", where viewership dipped by 4.)
For all of your news and adult entertainment needs.
Photo by: Neal
By 2040, the number of internet search engines were so voluminous and staggering (including Infoseek, Lycos, Yahoo, Google, Magellan, AltaVista, Ask Jeeves, Ask.com, Goodsearch, SearchMe, Wheresthatdangwebsite.com and 150 million others) that George and Neal started their own search engine, which conveniently enough searched for other search engines.
In 2022, at George and Neal's insistence (ok, it was actually persistence - we agreed to finally stop whining about it if the IOC included it - we can be very persuasive) Snowball Fights became an Olympic sport. USA won the first two Olympics with the event (mainly because the IOC refused to acknowledge it and there were no other competitors in 2022 and only Ghana in 2026). Unfortunately by 2041 global warming had progressed to the point where holding Winter Olympics was pretty pointless (the 2040 Olympics were mainly a soggy, slushy mess), so 2044 marked the first ever Spring Olympics (since Winter as a season no longer existed anywhere on Earth except Detroit for some reason, but no one wanted to travel there). Instead of Bobsled there was the Mudslide, Speed Skating became Liquid Mountaineering (look it up), and Snowball Fights became The Mud Sling. Throwing mud rekindled George and Neal's interest in the Olympics (they quickly realized in 2023 that snowball fights were a bit immature) and George and Neal promptly joined the 2048 US Olympic Mud Slinging Team where they led the team to 18 consecutive Olympic Mud Slinging Gold Medals (including 48 of the 51 World Mudslinging Championships in non-Olympic years - The Republican and Democratic parties won the other three years).
Members of the 2030 Canadian Snowball Team deftly dodging a barrage of snow from the signature move, Holy White Fury, of the Vatican team.
Photo by: George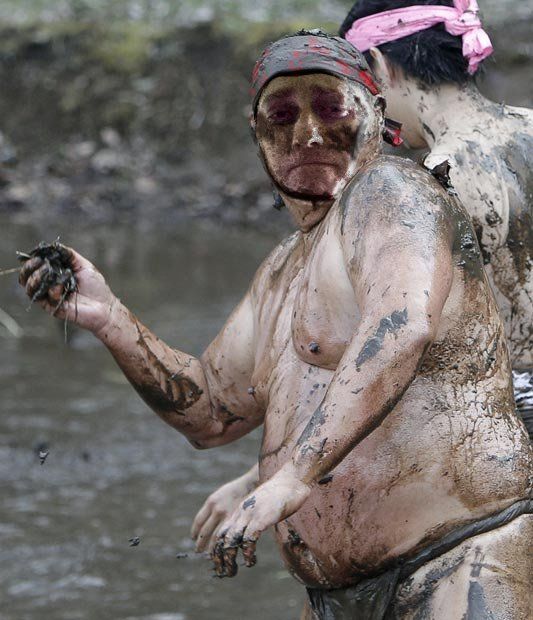 Neal preparing to sling a whopper at Flu Pou Tou Eue, the captain of the Chinese team, in 2056. Neal claimed the extra weight gave him an advantage, but we think he just liked eating too much mud. And he never had an excuse for the loincloth...
Photo by: George
---
The Grand Saga of George and Neal's Adventures through Time and Space (and Pudding)! is fully supported by... Well, nothing currently. We recently added ads (is that redundantly repetitive?) to our site in the hopes that we can earn a little bit of cash to pay to keep this site running. You see, all the piles and piles of money we make through our various business ventures, inventions, good fortune, and, ahem, other various schemes goes right back into funding for more research, travels, lawsuits, and general debauchery. So you see, there's nothing really left to keep this website going.
So, if you feel so inclined, you may graciously donate your organs, blood, or other bodily fluids to keep our website going. Or you could just send us a few bucks via PayPal, we're pretty easy like that (that's what she said). In return you'll gain the satisfaction of knowing that you are helping to educate millions and billions of individual cells (which really amounts to only a fraction of a person since it is estimated that the brain contains somewhere between 80-120 billion nerve cells (neurons), and neurons only make up about 50% of the cells in a human brain). Oh, and if you so request, we might include you in a future adventure (or maybe a past one).
Or, just click on one of the ads on our site. We'll get a few pennies, and there's no obligation for you, guaranteed or your money back!
Thanks for reading, and we hope you're not too traumatized after your visit.
---