---
---
'secrets' Tagged Entries
View All Tags
4 Entries on This Page
4 Tagged Entries
In 1992, when they were prime witnesses in the trial of Chicago's Polish Mafia boss Mogul Downhillski, George and Neal entered witness protection where they were relocated to Idaho and given false names. They lived there for three years before they once again became key witnesses in a criminal case, this time against the eco-terrorist group "Bombing for Bushes". In a strange twist of fate, George and Neal (now known as Sven Jorgenson and Paco Lopez) were again put into witness protection. This time they were relocated to Champaign, IL and, ironically, given the names George Jaros and Neal Simon, although George was now Neal and Neal was now George. In 2001 they again became key witnesses, but this time in separate events. George (really Neal) was to testify against celebrity gangster D-pak Choppa in his murder trial of fellow thug and rapper Jarjar FallSwell. Neal (really George) was considered the expert witness, and the prosecution's slam dunk testimony, in the case of Reticulitermes virginicus vs X-Vermin-X Corporation due to the years he spent secluded in the deep wilderness studying and becoming a part of subterranean termite society. He was at one time knows as the Jane Goodall of termites. Anyway, in a very strange twist of fate, George (really George) was sent into Witness Protection in DeKalb and given the name George Jaros. Neal (really Neal) was sent into witness protection in Chicago the same year and given the name Neal Simon. Unfortunately, due to the secretive nature of witness protection, they were unable to reveal their past identities, resulting in this confusing mess. It all worked out in the end though, and those that might be looking for them are undoubtedly just as confused as everyone else. But please, don't say anything to anyone since this is all supposed to be a secret still. They have currently retired from the business of being key witnesses in criminal cases, since it was becoming too confusing to remember who they were at any given time, especially with all the time travel they do.
The "Bombing for Bushes" eco-terrorist group wasn't your typical eco-terrorist group. Instead of creating turmoil to push environmental agendas, they just terrorized bushes. We witnessed plenty an azalea go up in flames before the FBI finally caught these punks.
Photo by: George
Area 51 - There is no such thing. I repeat, there is no such thing as Area 51. Area 51¾, however has been kept such a great secret by George and Neal that even the US government hasn't heard of it.
In 1956 George and Neal founded a super-duper-triple-secret organization. I can't tell you the name of the society or I would have to kill you, but I can tell you that it can be recognized by the symbol ¤. Our meeting houses have sprung up all over the country and we have placed them very close to highways to make them easily accessible. You've probably seen the dome/pyramid hybrid buildings near exit and entrance ramps. Membership is by invitation only. We do have a way to gain entry without a formal invitation, however. All you have to do is solve the following riddle and then knock on the door to one of our meeting houses with the answer. "What number comes next in this series: 1, 11, 21, 1211, 111221, 312211, 13112221, ???" We're waiting!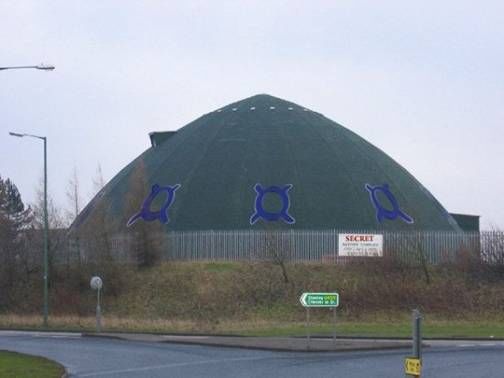 You'll know when to come for the meetings by answering the following: "There is a commonly used eight letter word that can be abbreviated by it's first letter, first two letters, first three letters, first four letters, or first five letters. All abbreviations and the word itself are commonly used. What is the word?"
Photo by: George
In 1921 George and Neal began the daunting task of teaching porcupines to fly. It was long, arduous, painful work, and after twelve long years they gave up. But with the rise of Nazi Germany there came a renewed interest in flying porcupines, or Fliegendes Stachelschwein as the Germans called them. So in 1939 George and Neal were asked to head a porcupine flight research and development project for the United States, United Kingdom, and Canada. The goal of the Long Island Ice Tea Project (so named because the Manhattan was already taken) was to develop oversized, flying porcupines before German scientists could succeed with their own Fliegendes Stachelschwein program. The top secret program had research facilities located in several areas of the United States, Canada, and the United Kingdom, including the secret Oak Ridge Elementary Flight Facility in Palos Hills, Illinois, the "Zorro" Test Facility in Los Alamos, California, and the Solochevy Research Facility in Poortown, Isle of Man, United Kingdom. The first porcupine test flights were conducted near Big Cottonwood Canyon in Utah, with the first experimental quill deployment taking place at the Forest of Argonne in France (the French didn't mind having a few more little pricks). The project proved to be a success and, although it is not well documented, starting in January and continuing into the spring of 1945, Allied forces sent wave after wave of highly trained flying porcupines behind Axis lines. After the deep penetration (that's what she said) of millions of barbed quills falling from the sky, Germany surrendered on April 29th. Ironically, the Bedingungslose Kapitulation der Wehrmacht (German Instrument of Surrender) was signed on May 7th with a pen constructed from a porcupine quill.
Too late George and Neal realized that they forgot to teach the porcupines how to land. There were many civilian casualties when the flock of porcupines decided to try landing in one of those lazy river water parks, popping numerous inner tubes and causing general havoc.
Photo by: George
---
The Grand Saga of George and Neal's Adventures through Time and Space (and Pudding)! is fully supported by... Well, nothing currently. We recently added ads (is that redundantly repetitive?) to our site in the hopes that we can earn a little bit of cash to pay to keep this site running. You see, all the piles and piles of money we make through our various business ventures, inventions, good fortune, and, ahem, other various schemes goes right back into funding for more research, travels, lawsuits, and general debauchery. So you see, there's nothing really left to keep this website going.
So, if you feel so inclined, you may graciously donate your organs, blood, or other bodily fluids to keep our website going. Or you could just send us a few bucks via PayPal, we're pretty easy like that (that's what she said). In return you'll gain the satisfaction of knowing that you are helping to educate millions and billions of individual cells (which really amounts to only a fraction of a person since it is estimated that the brain contains somewhere between 80-120 billion nerve cells (neurons), and neurons only make up about 50% of the cells in a human brain). Oh, and if you so request, we might include you in a future adventure (or maybe a past one).
Or, just click on one of the ads on our site. We'll get a few pennies, and there's no obligation for you, guaranteed or your money back!
Thanks for reading, and we hope you're not too traumatized after your visit.
---