---
---
'2007' Tagged Entries
View All Tags
2 Entries on This Page
2 Tagged Entries
In 2007, hoping to cash in and ride on the success of American Idol, but knowing his limitations (such as poor fashion sense, body odor, warbley singing, weird eyebrows, crooked teeth, mismatched nostrils.... [editor's note: many of Neal's failings have been deleted to preserve Facebook's memory/storage]), Neal prompted George to create Vatican Idol, which he would then try out for. As Vatican City is the smallest country in the world by both area and population (pop: 900), Neal was sure to win the title. Or so he thought. Voted "Vatican City's 900th best singer," Neal suffered through the worst of Simon Cowell's caustic remarks, including: "I have seen more talent contained in the bowels of a seven-day-deceased rodent," "I would rather listen to spider-monkeys mating than hear another second of you singing", and "Despite the fact that all you did was sing, I can unequivocally say that you are the worst human being ever to exist on the face of the planet." Ouch. Neal then set his sights on performing in So You Think You Can Dance?. That, too, went poorly. Hopefully he will fare better on George's newest show, So You Think You Can Sit?.
So tense... So exciting... Can you stay in your seat?
Photo by: Neal
George, on the other hand, began producing hit after hit in the reality programming world, including: The Amazing Standing In Place, Britain's Got Teeth Problems, and The Last Accountant Standing.
Stereotypes have never seemed so fun!
Photo by: Neal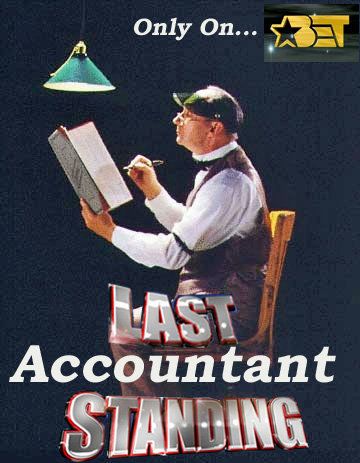 File this... under awesome!
Photo by: Neal
In 1964 George and Neal started their niche business "Hair, Inc." in which they supplied the hair for your favorite rock stars and other celebrities. The business was an overnight success when the Beatles (who were actually all completely bald) became their first clients. Over the years our business has grown and we supply hair for all the biggest stars. We had our most profitable decade in the 1980's with the rise in popularity of "Glam Rock" and "Hair Metal" bands. Some of our highest profile clients include, in addition to The Beatles, Aerosmith, The Rolling Stones, Poison, Don King, Lyle Lovett, Twisted Sister's Dee Snider, Willie Nelson, ZZ Top (but just their beards), Gene Simmons and Ace Frehley of Kiss, Crystal Gayle, and the left half of David Bowie's head, just to name a few. We have been trying to gain Paul Simon, Ron Howard and Sinead O'Connor as clients for years without success. Brittney Spears was our client at one point, but we had a falling out in February 2007 before she turned to one of our inferior competitors, "Rock Locks" (who also services the rest of Kiss, Slaughter, Howard Stern, and Motley Crew, among others). We also used to do the hair for Metallica, until they decided to start sucking. About the only celebrity who's hair is actually real is our good friend David Allan Coe's, and that's some bad-ass hair for an old guy.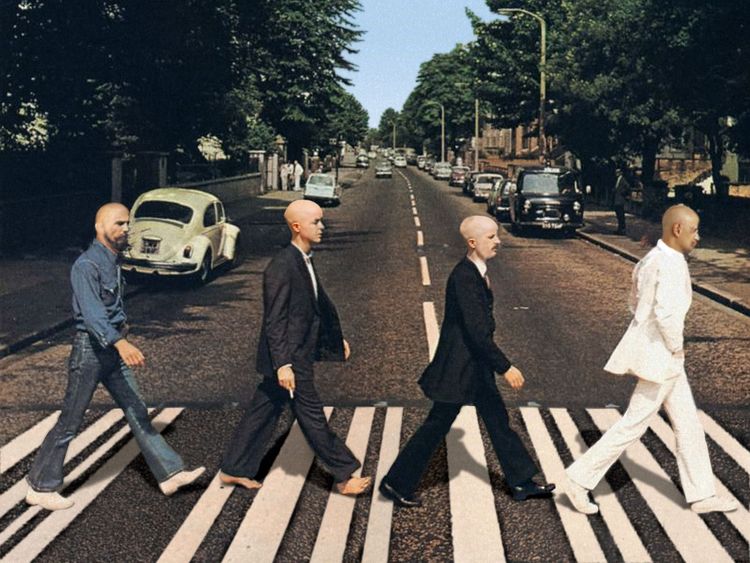 Thanks to Hair, Inc. very few people knew that the Fab Four were really the Bald Four.
Photo by: George
George on stage with his buddy David Allan Coe (not a client of Hair, Inc.). Neal wasn't allowed on stage, but he did take this awesome picture.
Photo by: George
---
The Grand Saga of George and Neal's Adventures through Time and Space (and Pudding)! is fully supported by... Well, nothing currently. We recently added ads (is that redundantly repetitive?) to our site in the hopes that we can earn a little bit of cash to pay to keep this site running. You see, all the piles and piles of money we make through our various business ventures, inventions, good fortune, and, ahem, other various schemes goes right back into funding for more research, travels, lawsuits, and general debauchery. So you see, there's nothing really left to keep this website going.
So, if you feel so inclined, you may graciously donate your organs, blood, or other bodily fluids to keep our website going. Or you could just send us a few bucks via PayPal, we're pretty easy like that (that's what she said). In return you'll gain the satisfaction of knowing that you are helping to educate millions and billions of individual cells (which really amounts to only a fraction of a person since it is estimated that the brain contains somewhere between 80-120 billion nerve cells (neurons), and neurons only make up about 50% of the cells in a human brain). Oh, and if you so request, we might include you in a future adventure (or maybe a past one).
Or, just click on one of the ads on our site. We'll get a few pennies, and there's no obligation for you, guaranteed or your money back!
Thanks for reading, and we hope you're not too traumatized after your visit.
---