---
---
'tokyo' Tagged Entries
View All Tags
3 Entries on This Page
3 Tagged Entries
In 2010, George and Neal went back in time to 2001 to stop themselves from hang gliding off 7 South Dearborn. Instead of arriving in 2001, they arrived in 1002. They tagged along with a group of colonists, accidentally spreading an epidemic among the Viking colony in Greenland. It's true. Neal didn't just totally wikipedia what happened in 1002 to add it to this. The epidemic was simply the common cold, but the 2010 version of the virus had mutated so much from what was around in 1002. Because of it's super resistance to all antibiotics and the sudden lack of all antibiotics in 1002 combined with the fresh clean air, free from pollutants, Neal's first sneeze resulted in the virus escaping his system and growing to massive size. The vikings weren't infected so much as crushed, like Godzilla crushed Tokyo (which is another story altogether). Also, George convinced Otto of Worms to withdraw his nomination for the title of Holy Roman Emperor and as a result good old Wormsy received Duchy of Carinthia in return. Nice - Thanks George!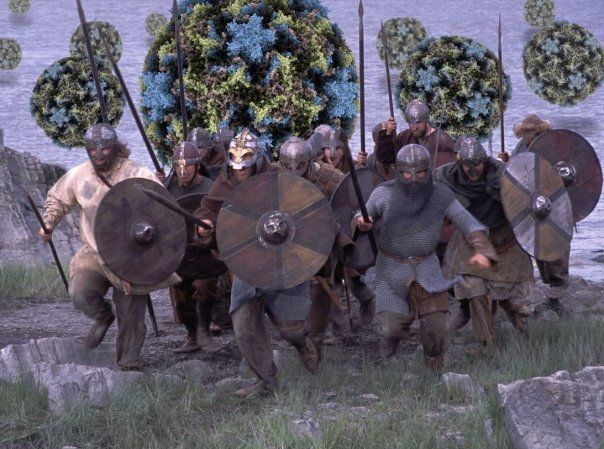 Cold viruses chasing Vikings... Never before had something so huge come out of Neal's nose. Well, except for that one time when he snotted all over Neptune (you always wondered why it's green right?).
Photo by: George
In 1954, Neal and George worked in Japan assisting scientists with all sorts of experiments. (The boys secretly volunteered because they enjoyed drinking random test tubes of unknown substances in hopes of becoming giddily intoxicated). Unfortunately, the scientists' atomic testing awoke a furious Godzilla, which began destroying everything in sight. Fortunately, all of the genetic testing performed on George and Neal caused them to grow to epic proportions.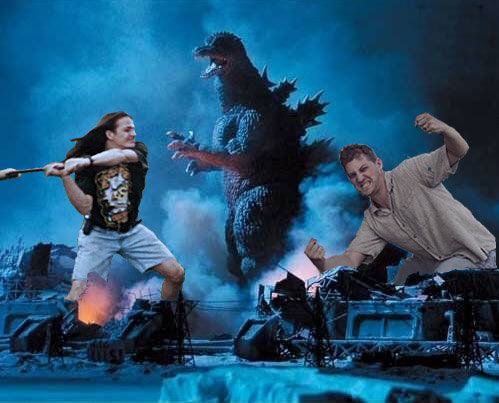 Godzilla is moderately annoyed.
Photo by: Neal
George sprang into action, hitting Godzilla repeatedly with a broom. (Why a broom? Who knows? Maybe George couldn't find his purse.) Neal did not help in any meaningful way during the battle. Instead, he merely stood around, flexing his new gigantic muscles. After the rampage, Neal and George's bodies reverted back to their original size. Their heads, however, remained extremely gigantic for many years. This turned out to be a blessing in disguise, and they became highly compensated, successful models for Pep Boys.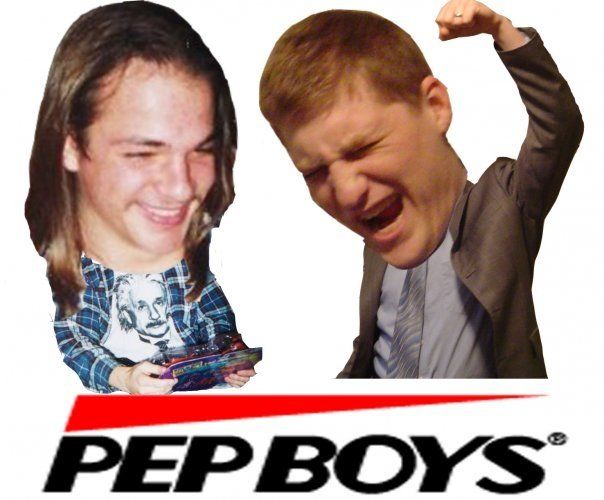 Sadly, this doesn't look all that different than what we normally look like.
Photo by: Neal
In September 2012 George took a short break from time travelling, changing history, and altering the laws of physics to spend some more time with his family. On September 3rd he showed the boys how to distort spacial dimensions to grow and shrink at will. On the 8th they learned about monarch butterflies and how Neal taught them to fly from Canada to Mexico. And on September 9th George and his boys had fun flying hipsters in the park. It was a fun filled week!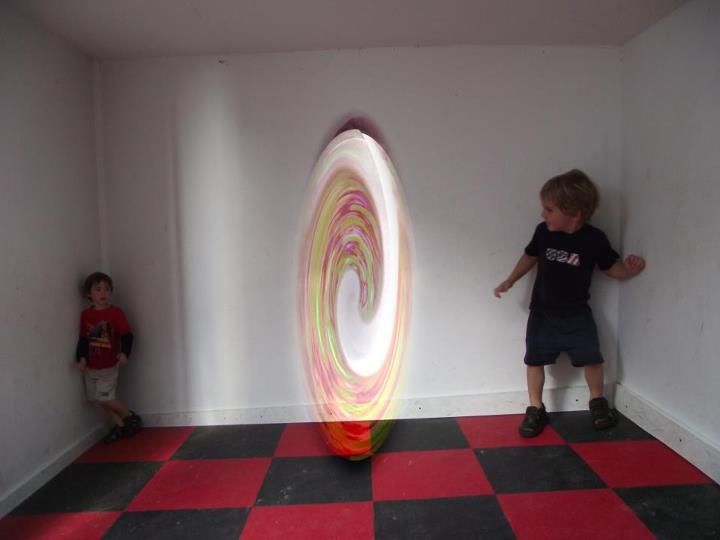 Sam had been wishing to be bigger for a long time. Now, with his new knowledge on dimensional disruption it's only a matter of time before he decides to crush Tokyo.
Photo by: George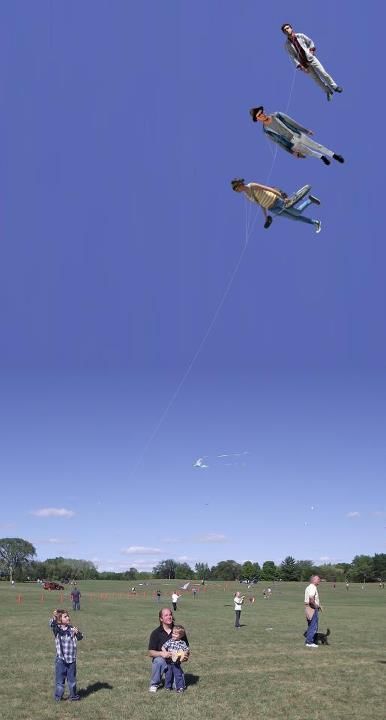 Unfortunately, a few minutes after this picture was taken the wind let up and those hipsters made a pretty ironic splat.
Photo by: George
---
The Grand Saga of George and Neal's Adventures through Time and Space (and Pudding)! is fully supported by... Well, nothing currently. We recently added ads (is that redundantly repetitive?) to our site in the hopes that we can earn a little bit of cash to pay to keep this site running. You see, all the piles and piles of money we make through our various business ventures, inventions, good fortune, and, ahem, other various schemes goes right back into funding for more research, travels, lawsuits, and general debauchery. So you see, there's nothing really left to keep this website going.
So, if you feel so inclined, you may graciously donate your organs, blood, or other bodily fluids to keep our website going. Or you could just send us a few bucks via PayPal, we're pretty easy like that (that's what she said). In return you'll gain the satisfaction of knowing that you are helping to educate millions and billions of individual cells (which really amounts to only a fraction of a person since it is estimated that the brain contains somewhere between 80-120 billion nerve cells (neurons), and neurons only make up about 50% of the cells in a human brain). Oh, and if you so request, we might include you in a future adventure (or maybe a past one).
Or, just click on one of the ads on our site. We'll get a few pennies, and there's no obligation for you, guaranteed or your money back!
Thanks for reading, and we hope you're not too traumatized after your visit.
---