---
---
Entries From Friday, April 24, 2009
---
---
3 Entries on This Page
For a few years near the end of the 19th century George and Neal organized several bands of outlaws and robbed banks and trains in the old west. We were actually the masterminds behind Butch Cassidy's Wild Bunch Gang's Union Pacific train holdup at Wilcox, Wyoming in 1899 and also the James-Younger gang's Kansas Pacific Railroad holdup near Muncie, Kansas, in 1874. They also helped the Newton Boys with their infamous postal train heist in Rondout, Illinois in 1924. George went by the name of "The Whitewash Kid" and Neal took the pseudonym "Kneal S. Iman", yeah real original.
Butch Cassidy's Wild Bunch circa 1901. Front row left to right: Harry A. Longabaugh, alias the Sundance Kid, Ben Kilpatrick, alias the Tall Texan, Robert Leroy Parker, alias Butch Cassidy; Standing: Will Carver; George Jaros alias the Whitewash Kid; Harvey Logan, alias Kid Curry; Neal Simon, alias Kneal S. Iman.
Photo by: George
In 1954, Neal and George worked in Japan assisting scientists with all sorts of experiments. (The boys secretly volunteered because they enjoyed drinking random test tubes of unknown substances in hopes of becoming giddily intoxicated). Unfortunately, the scientists' atomic testing awoke a furious Godzilla, which began destroying everything in sight. Fortunately, all of the genetic testing performed on George and Neal caused them to grow to epic proportions.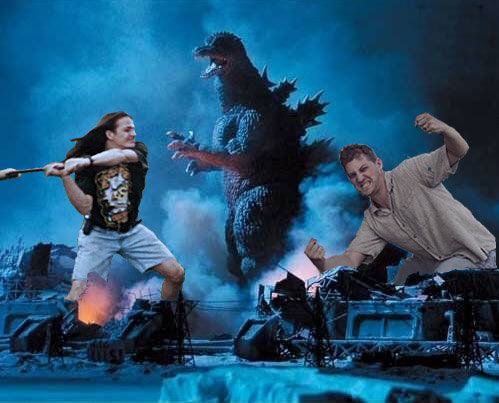 Godzilla is moderately annoyed.
Photo by: Neal
George sprang into action, hitting Godzilla repeatedly with a broom. (Why a broom? Who knows? Maybe George couldn't find his purse.) Neal did not help in any meaningful way during the battle. Instead, he merely stood around, flexing his new gigantic muscles. After the rampage, Neal and George's bodies reverted back to their original size. Their heads, however, remained extremely gigantic for many years. This turned out to be a blessing in disguise, and they became highly compensated, successful models for Pep Boys.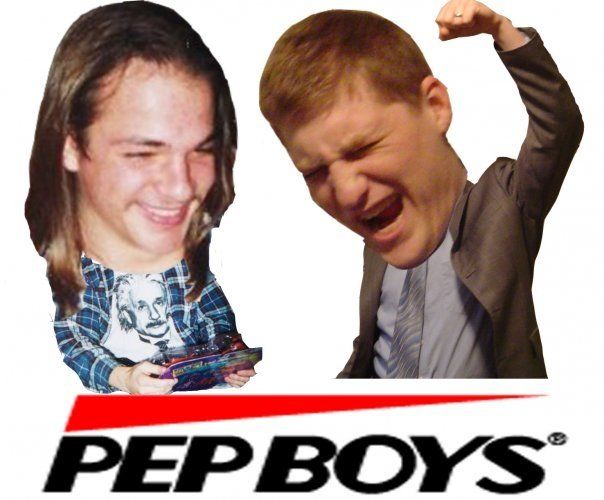 Sadly, this doesn't look all that different than what we normally look like.
Photo by: Neal
George and Neal have enjoyed starting format wars throughout the years. They are responsible for the infamous "Betamax vs VHS vs Video 2000 Conflict", "Battle of the PC and Mac", "AC/DC - The War of Currents", "The Cylinder Records vs Disk Records Conundrum", "8-Track / 4-Track / Compact Cassette / Microcassette Battle Royal", and the latest "Blu-ray vs HD DVD Duel", the "Eternal Cola Wars", and the "Great Soda/Pop Debate" (which they recently tried to resolve by proposing the crowd pleasing 'Jaguanst' - we really don't care what you think Andy), and the original "Lungs over Gills Conflict", among others. Not all of our instigations were successful though. The "Player Piano Dilemma" was averted in 1908, no one really cared at all about the "Green or Neerg Argument" and the "Round/Square Wheel Debate" was short lived. But in all, we're happy with the confusion we've generated.
---
---
The Grand Saga of George and Neal's Adventures through Time and Space (and Pudding)! is fully supported by... Well, nothing currently. We recently added ads (is that redundantly repetitive?) to our site in the hopes that we can earn a little bit of cash to pay to keep this site running. You see, all the piles and piles of money we make through our various business ventures, inventions, good fortune, and, ahem, other various schemes goes right back into funding for more research, travels, lawsuits, and general debauchery. So you see, there's nothing really left to keep this website going.
So, if you feel so inclined, you may graciously donate your organs, blood, or other bodily fluids to keep our website going. Or you could just send us a few bucks via PayPal, we're pretty easy like that (that's what she said). In return you'll gain the satisfaction of knowing that you are helping to educate millions and billions of individual cells (which really amounts to only a fraction of a person since it is estimated that the brain contains somewhere between 80-120 billion nerve cells (neurons), and neurons only make up about 50% of the cells in a human brain). Oh, and if you so request, we might include you in a future adventure (or maybe a past one).
Or, just click on one of the ads on our site. We'll get a few pennies, and there's no obligation for you, guaranteed or your money back!
Thanks for reading, and we hope you're not too traumatized after your visit.
---