---
---
'hollywood' Tagged Entries
View All Tags
3 Entries on This Page
3 Tagged Entries
In 1967, George and Neal traveled to Hollywood, to start their business, "Skin Flakes of the Stars". They sold exactly what you think. People reacted exactly how you think. Surprisingly, years later they restarted the business but marketed the product as a high-protein, body sculpting, smoothie supplement called "Hollywood DermaFleck", and the company's success skyrocketed. You can buy a tub of it at your local GNC, Vitamin World, or Jiffy Lube.
In 2010 George insisted Neal seek therapy to break his addiction to board games. Neal entered the program but came out six weeks later with a great idea for a game called "The Twelve Step Approach". The game has been a big hit in Hollywood and has attracted some of the biggest stars in entertainment, including Nick Nolte, David Hasselhoff, Amy Winehouse, Lindsey Lohan, and Elmo. Neal hopes to capitalize on the game's success with a sequel called "Back on the Wagon" while George is working on a prequel called "I Can't Remember What I Did Last Summer". A live television version of the game is scheduled to be on NBC in the fall of 2010. The working title for the game show version is "Neal or No Neal".
It's anticipated that the show will be a runaway success, just like the board game. In other words, if you run away you might succeed.
Photo by: George
Wanting to attain fame, but hoping to do so with as little effort as humanly possible, George and Neal went back in time to be recast in Hollywood blockbuster movies and shows. First, Neal "borrowed" Barret Oliver's role in The Neverending Story.
"Whee! Whee! Wh... Hey, this thing smells like an old foot. Can we stop shooting?"
Photo by: Neal
Then Neal was cast in our nation's finest show, Gimme a Break! - assuming the role previously cast by Joey Lawrence.
If Shakespeare were alive, he'd be jealous.
Photo by: Neal
Wanting to get in on the fun, George took Ron Howard's role as Opie Taylor in the Andy Griffith Show.
This is the reason scientists worked tirelessly to create Tivo.
Photo by: Neal
After Neal appeared in both the 70's movie Star Wars, as well as the show about the 70's, "That 70's Show", Neal retired his acting career/identity theft.
Neal is the one on the left.
Photo by: Neal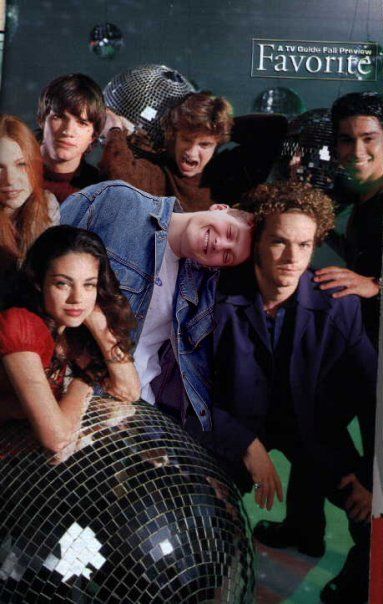 Topher Grace was less than thrilled at the new direction of the show.
Photo by: Neal
George, however, went on to star in The Brady Bunch, Punky Brewster, The A-Team, Cheers, Three's Company, and All in the Family before moving on to his newest passion, competitive Butter Churning. (The First Rule of Competitive Butter Churning... You Do Not Talk About Butter Churning. The second rule is pretty much the same as the first.)
With hair of... um... nevermind.
Photo by: Neal
The sexual tension between George and Rhea Perlman was so intense that scientists classified it as a new periodic element ("Georgantium")
Photo by: Neal
---
The Grand Saga of George and Neal's Adventures through Time and Space (and Pudding)! is fully supported by... Well, nothing currently. We recently added ads (is that redundantly repetitive?) to our site in the hopes that we can earn a little bit of cash to pay to keep this site running. You see, all the piles and piles of money we make through our various business ventures, inventions, good fortune, and, ahem, other various schemes goes right back into funding for more research, travels, lawsuits, and general debauchery. So you see, there's nothing really left to keep this website going.
So, if you feel so inclined, you may graciously donate your organs, blood, or other bodily fluids to keep our website going. Or you could just send us a few bucks via PayPal, we're pretty easy like that (that's what she said). In return you'll gain the satisfaction of knowing that you are helping to educate millions and billions of individual cells (which really amounts to only a fraction of a person since it is estimated that the brain contains somewhere between 80-120 billion nerve cells (neurons), and neurons only make up about 50% of the cells in a human brain). Oh, and if you so request, we might include you in a future adventure (or maybe a past one).
Or, just click on one of the ads on our site. We'll get a few pennies, and there's no obligation for you, guaranteed or your money back!
Thanks for reading, and we hope you're not too traumatized after your visit.
---