---
---
'george lucas' Tagged Entries
View All Tags
2 Entries on This Page
2 Tagged Entries
In 1997, due to George's deep love of Star Wars, as well as his admiration of George Lucas (less as a result of Lucas's accomplishments and more because of Lucas's awesome first name), George asked to be involved in the Star Wars prequels. However, when George read the script to Episode I, he quickly decided he did not want to be involved in the project (or in George's words, "Meesa want nuting to do wit'de feeellllm, Ani!"). Instead, he dumped quantums of money in Lucas' lap, requesting that he be digitally inserted into the "original" trilogy. Caring little about continuity (come on Lucas, Greedo shoots first???), Lucas complied. Happy with the results, George has since contacted Spielberg so that he could be included in JAWS, Orson Welles's Citizen Kane, and replacing Bill Cosby in Leonard: Part 6 (it didn't help).
"Luke... the Force.... it's just midi-chlorians..." "That's not true! That's impossible!"
Photo by: Neal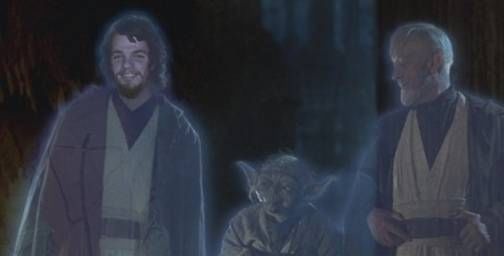 Hayden Christiansen must be rolling over in his... um... big comfy bed, in a huge mansion.
Photo by: Neal
Despite never having seen Citizen Kane, George was insistent on having a part... He played the snow globe.
Photo by: Neal - Caption by: George
George has always had a love of science fiction. Something about the amazing stories with their roots in real science, fantasy, futurism, and history has always fascinated and inspired him. He also finds it funny how many things that the public believes to be "fiction" he knows to be "non-fiction" (or more precisely, "biography" and occasionally "autobiography").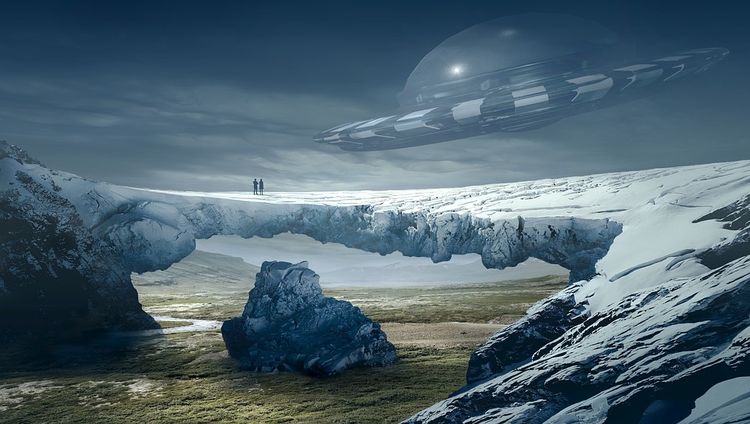 Just one of George and Neal's many adventures that some people might think is science fiction.
Photo by: George
Neal has always had a love of tapirs. Something about their long snouts, funny ears, and poor depth perception has always fascinated and inspired him. He also finds it funny... That's it, he just finds tapirs to be pretty funny.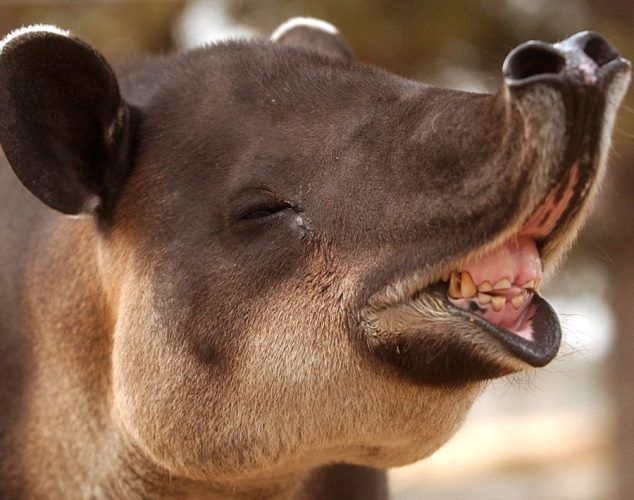 Isn't he just adorable! Judging by his teeth, he must not be British.
Photo by: George
In late 1979 George and Neal had the rare opportunity to combine these loves. Some young chump (also named George) was working on the sequel to an idea he "borrowed" from George and Neal. His spaghetti western and martial arts fusion movie set in space needed a bounty hunter, or more specifically the bounty hunter needed a space ship. Since he had never been to space, the other George approached George and Neal for more help. George (this George, not the other George) had an amazing idea for a stealth ship that would allow the bounty hunter to approach his targets undetected. Neal wanted a flying tapir. And thus, Boba Fett's SLAVE 1 ship was designed. Fast forward 40ish years and thanks to more movies, animated serieses, and the hit show The Mandelorian, it is now one of the most recognizable flying tapir heads in history!
George thinks it's a pretty good likeness of Tippy the Tapir. Neal thinks it's a pretty good likeness of Ron Jeremy, but Neal is wrong. Wrong on so many levels. What's wrong with you Neal?!
Photo by: George
---
The Grand Saga of George and Neal's Adventures through Time and Space (and Pudding)! is fully supported by... Well, nothing currently. We recently added ads (is that redundantly repetitive?) to our site in the hopes that we can earn a little bit of cash to pay to keep this site running. You see, all the piles and piles of money we make through our various business ventures, inventions, good fortune, and, ahem, other various schemes goes right back into funding for more research, travels, lawsuits, and general debauchery. So you see, there's nothing really left to keep this website going.
So, if you feel so inclined, you may graciously donate your organs, blood, or other bodily fluids to keep our website going. Or you could just send us a few bucks via PayPal, we're pretty easy like that (that's what she said). In return you'll gain the satisfaction of knowing that you are helping to educate millions and billions of individual cells (which really amounts to only a fraction of a person since it is estimated that the brain contains somewhere between 80-120 billion nerve cells (neurons), and neurons only make up about 50% of the cells in a human brain). Oh, and if you so request, we might include you in a future adventure (or maybe a past one).
Or, just click on one of the ads on our site. We'll get a few pennies, and there's no obligation for you, guaranteed or your money back!
Thanks for reading, and we hope you're not too traumatized after your visit.
---