---
---
'George and Neal' Tagged Entries
View All Tags
3 Entries on This Page
3 Tagged Entries
George recently learned that when movie directors want to disown a horrible project, they would remove their name and instead use the pseudonym "Alan Smithee". Seeing a financial opportunity (and wishing to recoup the money Neal lost the two of them in a Fonzi Scheme), in 2065, George tried to convince Neal to change his name to Alan Smithee in order to obtain an ocean of royalty checks. Neal (now Alan) agreed. The plan worked, and Neal/Alan received a nice sum of money. However, they were not yet satisfied, and consequently to acquire more royalty checks, George changed his name to Julie Andrews, Julie changed her name to George Burns, and Clarissa changed her name to Neil Simon. (Believing this would become confusing, Neal told Clarissa, "Why don't I change my name to Neil Simon, and you can be Alan Smithee?" Clarissa replied, "That would be simply absurd.") Neal then suggested that he instead change his name to Clarissa Darling from the TV show Clarissa Explains It All, not realizing that fictional characters do not receive royalty checks. The plan worked, and they (once again) became rich beyond their wildest dreams (which is amazing, since their wildest dreams includes turning their entire bodies into platinum). However, it sure made get togethers confusing when George (Julie) wanted to talk to Neal (Clarissa), while George (Neal) and Neal (George) went off on one of their strange adventures.
In 2121 Neal was stranded in the middle of the Pacific Ocean on a desert island. However, Neal couldn't spell and thought he was on a dessert island. He spent the next year and a half eating nothing but sand, bark, and the occasional wandering crab, which he thought were cake crumbs, chocolate, and gummy crabs respectively. Somehow he survived, however this really did a number on his teeth, inspiring him to write the hit song "Teeth are for Wussies, so Give Edentulous a Chance". Ironically, George was also stranded in the middle of the ocean during the exact same time frame, but he was actually on a dessert island. He survived the 18 months on a diet of whipped cream, lollipops, and chocolate chip cookies. This inspired George to create the recipe for his tooth-whitening toothpaste. Also, ironically, George and Neal's islands were within swimming distance of each other, however Neal was too afraid of the salt in the ocean to swim over. (Well, according to George. According to Neal it was because George kept him away by brandishing licorice whips, but who are you gonna believe?) When George and Neal finally were rescued by some guy named Clem, they returned to the 1980's and put their latest creations to good use.
Although it was in tropical latitudes, it's a good thing George had his winter gear. All that ice cream made the air pretty chilly. Yummy, but chilly.
Photo by: George
In 2039 the game Tic Tac Toe had a huge resurgence in popularity when Neal discovered that the game had a hidden Easter Egg, where you could actually play on the lines instead of the squares. This opened up many new strategies, that for centuries, had been hidden and remained unexplored. In order to cash in on the Tic Tac Toe hype, George partnered with Ferrero SpA candy company on a new line of candy. Tic Tac Toes were less popular than their minty counterparts, but they sold reasonably well for most of the next decade.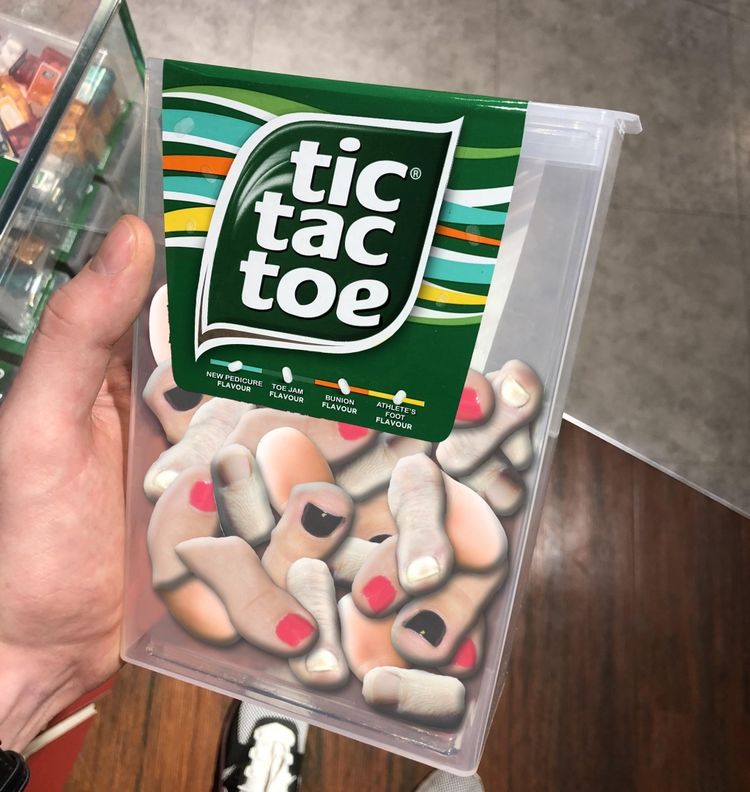 This was the variety pack. Some of the most popular flavors, like Hyperhidrosis, Corns, and Burst Blister, came in their own packaging.
Photo by: George
---
The Grand Saga of George and Neal's Adventures through Time and Space (and Pudding)! is fully supported by... Well, nothing currently. We recently added ads (is that redundantly repetitive?) to our site in the hopes that we can earn a little bit of cash to pay to keep this site running. You see, all the piles and piles of money we make through our various business ventures, inventions, good fortune, and, ahem, other various schemes goes right back into funding for more research, travels, lawsuits, and general debauchery. So you see, there's nothing really left to keep this website going.
So, if you feel so inclined, you may graciously donate your organs, blood, or other bodily fluids to keep our website going. Or you could just send us a few bucks via PayPal, we're pretty easy like that (that's what she said). In return you'll gain the satisfaction of knowing that you are helping to educate millions and billions of individual cells (which really amounts to only a fraction of a person since it is estimated that the brain contains somewhere between 80-120 billion nerve cells (neurons), and neurons only make up about 50% of the cells in a human brain). Oh, and if you so request, we might include you in a future adventure (or maybe a past one).
Or, just click on one of the ads on our site. We'll get a few pennies, and there's no obligation for you, guaranteed or your money back!
Thanks for reading, and we hope you're not too traumatized after your visit.
---