---
---
'wizard of oz' Tagged Entries
View All Tags
3 Entries on This Page
3 Tagged Entries
After the success of placing themselves into the roles of classic sitcom characters George and Neal did the same thing with movies. But this time instead of replacing the original stars with themselves they replaced the stars with a collection of sock puppets. Surprisingly these already hit movies fared even better with the sock stars than they did with live actors. Some of our classic films include "Thelma & Louise", "The Shining", "Run Lola Run", "The Invisible Man" (in which we debuted our new color film process - we thought a see through man was a much better case for introducing the world to color movies than that creepy land of Oz), and "The Godfather".
If you look closely in the end scene you'll notice that the socks in the car are just George's dirty laundry.
Photo by: George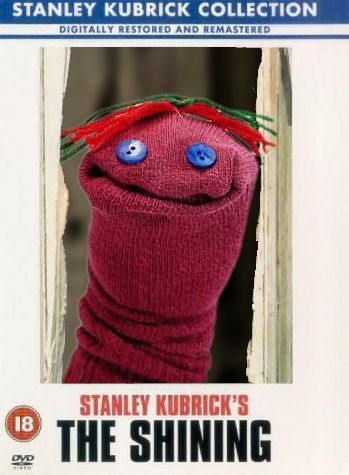 All work and no play makes Jack a smelly sock...
Photo by: George
Actually, it was more of a "Glide across the frame Lola, glide..."
Photo by: George
Unfortunately due to special effects budget limitations, only the sock was made invisible.
Photo by: George
"Don" Corleone actually spoke clear enough to understand perfectly all the time.
Photo by: George
Just for fun, we even re-did the Pauley Shore classic "Son In Law" using the oldest, most rancid, sweat stained, left in the bottom of the bag for decades set of Neal's gym socks that we could find, however we still couldn't get the movie to stink worse than Pauley's original.
Replacing Pauley Shore was the best thing that ever happened for this film. It received 6 Oscar nominations, walking home with 4 of the awards, including "Best Sock".
Photo by: George
In 2012 George and Neal recorded an album of cover songs, except instead of the actual lyrics we sang the lyrics that everyone thinks the original artists were singing. Neal's rendition of Jimmi Hendrix's Purple Haze was an instant hit ('Scuse me while I kiss this guy) while George's version of CCR's Bad Moon Risin' (There's a bathroom on the right) became the theme song for Larry Craig's 2012 presidential campaign. Other songs on the album included:
- Queen's Bohemian Raphsody (Scallaboosh, Scallaboosh, will you do the banned tango... and ...The algebra has a devil for a sidekick eeeeeeeeee....)
- Led Zepplin's Stairway To Heaven (And there's a wino down the road)
- Nirvana's All Apologies (Smoking on the ashes of your Aunt Louise)
- The Sound of Music's So Long, Farewell (So long, farewell, our feet are saying good-bye)
- Nirvana's Heart-Shaped Box (Hey, Wayne, I've got a new Cobain)
- Elvis's Are you Lonesome Tonight (Are you loathsome tonight? Do you mince meat....)
- The Beatles' Ticket to Ride (She's got a chicken to ride.)
- REM's The One I Love (This one goes out to the one-eyed dove.)
- Judy Garland's Somewhere Over the Rainbow (Where Tribbles smell like lemon drops)
- Madonna's Material Girl (I'm a Cheerio girl)
- Frank Sinatra's Strangers in the Night (Strangers and your wife, exchanging glances...)
- NIN's Closer (I want a duck shaped like a triangle, You give a toaster to Bob)
- Simon and Garfunkel's Bridge Over Troubled Water (Like a bridge over a tub of water)
- Glen Miller's Chattanooga Choo Choo (Pardon me boys, is that the cat who chewed your new shoes?)
We're getting ready to release the second album, entitled "Shamu the Mysterious Whale: The Songs of U2".
Photo by: George
In the early 2000's, George and Neal were hired by FOX studios to pitch movie ideas. Given their many adventures, you'd think they would have a wealth of ideas for hit movies. As it turns out, they did not. Instead, George and Neal decided to follow the example made by the immensely financially successful "Aliens Versus Predators (AVP)" (e.g. lazily combining two movie properties together rather than coming up with actual cogent ideas). Neal and George started combining movie properties in hopes of creating blockbusters. It worked - they made a fortune producing such memorable hits as "Horton Hears A Gremlin," "That was Then, This is Apocalypse Now!", "The Wizard of Blade Runner", and "Aliens versus Peanuts". Thereafter, they tried to branch out into making other types of movies, but had little success. After creating "The Entirely Ending Story", they called it a day.
Though the movie holds an 86% on RottenTomatoes.com, the novelization is far superior, as it includes emotionally resonant subtext completely absent in the movie.
Photo by: Neal
The kids made fun of Linus constantly, but at least the Great Pumpkin didn't have two sets of teeth and an appetite for human flesh.
Photo by: Neal
---
The Grand Saga of George and Neal's Adventures through Time and Space (and Pudding)! is fully supported by... Well, nothing currently. We recently added ads (is that redundantly repetitive?) to our site in the hopes that we can earn a little bit of cash to pay to keep this site running. You see, all the piles and piles of money we make through our various business ventures, inventions, good fortune, and, ahem, other various schemes goes right back into funding for more research, travels, lawsuits, and general debauchery. So you see, there's nothing really left to keep this website going.
So, if you feel so inclined, you may graciously donate your organs, blood, or other bodily fluids to keep our website going. Or you could just send us a few bucks via PayPal, we're pretty easy like that (that's what she said). In return you'll gain the satisfaction of knowing that you are helping to educate millions and billions of individual cells (which really amounts to only a fraction of a person since it is estimated that the brain contains somewhere between 80-120 billion nerve cells (neurons), and neurons only make up about 50% of the cells in a human brain). Oh, and if you so request, we might include you in a future adventure (or maybe a past one).
Or, just click on one of the ads on our site. We'll get a few pennies, and there's no obligation for you, guaranteed or your money back!
Thanks for reading, and we hope you're not too traumatized after your visit.
---