---
---
'richard nixon' Tagged Entries
View All Tags
2 Entries on This Page
2 Tagged Entries
Originally, Mel Gibson won the 2016 election. Thanks to George and Neal's time machine, this was averted. Unfortunately, Mel Gibson also had a time machine (which explains why many of his movies are so historically accurate), and he used it to once again tip the election in his favor. Civic duty demanded George and Neal change the timeline back. However, Mel then went back in time to alter the timeline so he won the election again. This back and forth went on seven hundred more times. The good news was that George and Neal averted a timeline where Mel Gibson was president. However, the bad news was that due to the constant tearing of the timeline fabric, for a period of time our president was Lindsey Lohan, then Megatron from Transformers, then a zombie Richard Nixon (his platform was "braaaaainnns!"), then an inanimate hat (its platform, oddly enough, was also "braaaaainnns!") and finally, Donald Trump. They kept trying to fix the timeline after that point, but nothing could be altered. Well, other than the fact that now Trump and Hillary Clinton are now secret, passionate lovers.

George and Neal felt really bad about messing up so badly (it being the first time they ever made a mistake), but this didn't stop them from capitalizing on the situation and writing a torrid romance novel about Trump and Clinton's love affair.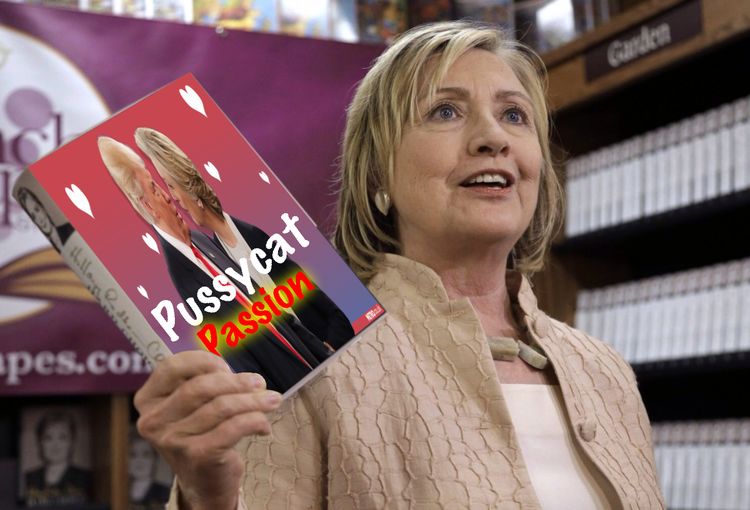 "This," purred Hillary, "gives a whole new meaning to 'Hot off the Press.'"
Photo by: Neal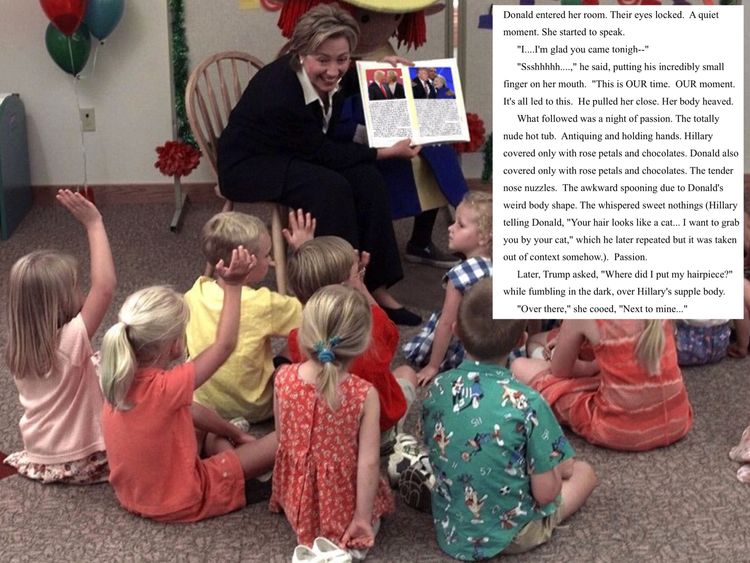 Republicans and Democrats finally agreed on one thing - this probably wasn't the best book to read to children.
Photo by: Neal
NY Times called the book, "Painfully detailed."

Hillary wrote the foreword, which read only: "Damn you both."
Jealous that the fictitious time travelers, Bill and Ted, got to meet and bring historical figures to their timelines, George and Neal decided to one-up them. They created an entire high school, populating the student body with hundreds of "borrowed" historical figures, both past and future. As one could imagine, the high school dominated many categories of competition, such as debate (the Socrates / Mr. T team cleaning up at every conference, typically employing "the only true wisdom is knowing you know nothing, fool!") and drama (Shakespeare's reboot, The Taming of the Shrek was surprisingly transcendent). However, Neal's lack of knowledge all things sports did hinder the school, as having famous painters Leonardo, Donatello, Michelangelo and Raphael on the football team did not play out nearly as well as he thought it would.
These kind words almost make up for the swirlees inflicted on them by Leonardo, Donatello, Michelangelo, and Raphael. (They were understandably angry about being cut from the team.)
Photo by: Neal
It was a crazy four years. George was voted "most likely to continue to be a guy named George." It was the highest honor he had ever received.
---
The Grand Saga of George and Neal's Adventures through Time and Space (and Pudding)! is fully supported by... Well, nothing currently. We recently added ads (is that redundantly repetitive?) to our site in the hopes that we can earn a little bit of cash to pay to keep this site running. You see, all the piles and piles of money we make through our various business ventures, inventions, good fortune, and, ahem, other various schemes goes right back into funding for more research, travels, lawsuits, and general debauchery. So you see, there's nothing really left to keep this website going.
So, if you feel so inclined, you may graciously donate your organs, blood, or other bodily fluids to keep our website going. Or you could just send us a few bucks via PayPal, we're pretty easy like that (that's what she said). In return you'll gain the satisfaction of knowing that you are helping to educate millions and billions of individual cells (which really amounts to only a fraction of a person since it is estimated that the brain contains somewhere between 80-120 billion nerve cells (neurons), and neurons only make up about 50% of the cells in a human brain). Oh, and if you so request, we might include you in a future adventure (or maybe a past one).
Or, just click on one of the ads on our site. We'll get a few pennies, and there's no obligation for you, guaranteed or your money back!
Thanks for reading, and we hope you're not too traumatized after your visit.
---