---
---
Entries From Tuesday, August 25, 2009
---
---
3 Entries on This Page
On September 6, 2010, George and Neal initiated a series of dares, each more shocking than the last. It started innocently enough, when George dared Neal to eat a live worm (not knowing that Neal had done this for free in the past, on a number of occasions). Neal then dared George to go back in time and dress like a woman at a number of milestones in his life.
Although there were those who thought George was the bride, it was still a beautiful ceremony. George decided to keep the toaster that he received; the newlyweds didn't seem to mind.
Photo by: Neal
After George went to numerous weddings, funerals, birthday parties, circumcisions, etc. dressed as a woman, George then dared Neal to not be witty, funny and/or suave for one day. (Neal of course could not do so - his awesomeness is by instinct not design). After trying (and failing) not to be awesome, Neal then dared George to erase Dan Ackroyd's entire existence. George did so with ease and great pleasure. Of course, George had to find someone to fill in the now Ackroyd-less roles...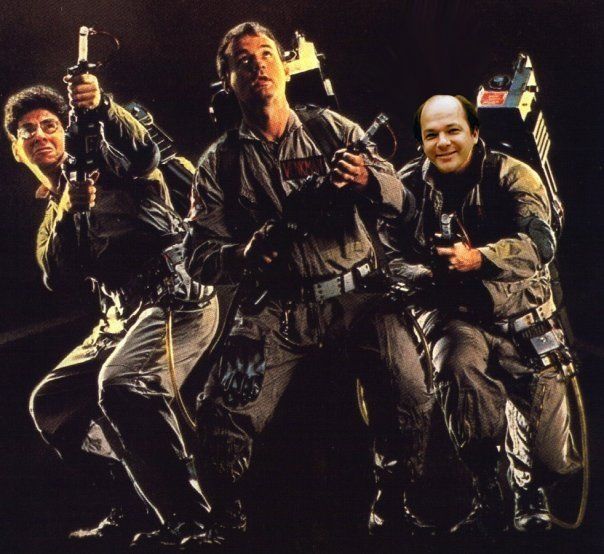 Now George's come-on, "Hey baby, wanna see my proton pack?" makes sense.
Photo by: Neal
The dares continued, each more fantastic than the last, which all culminated somehow in Neal thinking he could take on Muhammad Ali in his prime. Six concussions later, he discovered he could not. Neal would have continued the dare contest, but after multiple blows to the skull, he forgot all about the contest and for some reason instead decided to be a divorce attorney. George was satisfied, believing that somehow this meant he won the contest.
Funny, Neal doesn't remember this at all. (George, on the other hand, remembers it very, very clearly, having profited immensely from all the shirts, DVDs, postcards, "Happy Birthday, Grandma" birthday cards, toilet paper, penile enlargement packs, and other products he sold bearing this image. Thanks George.)
Photo by: Neal
In 2045, robots took over the world. Not as scary as you'd think. The robots were friendly, personable, and wonderful leaders of the enslaved human race. This robotic takeover had nothing to do with George and Neal. Or did it? (Yes, we know this has already been posted, but it will happen twice - seriously.)
In December, 2011 Neal and George did the world a favor by getting rid of Kim Jong Il using a technique they spent decades perfecting. The "Remote Head Squish" method of attack is a secret that was passed on to them by Samurai Master Nasu no Yoichi in 12th century Japan (March 13, 1192 to be exact).
They never saw us coming. One of the benefits of having a personal cloaking device.
Photo by: George
---
---
The Grand Saga of George and Neal's Adventures through Time and Space (and Pudding)! is fully supported by... Well, nothing currently. We recently added ads (is that redundantly repetitive?) to our site in the hopes that we can earn a little bit of cash to pay to keep this site running. You see, all the piles and piles of money we make through our various business ventures, inventions, good fortune, and, ahem, other various schemes goes right back into funding for more research, travels, lawsuits, and general debauchery. So you see, there's nothing really left to keep this website going.
So, if you feel so inclined, you may graciously donate your organs, blood, or other bodily fluids to keep our website going. Or you could just send us a few bucks via PayPal, we're pretty easy like that (that's what she said). In return you'll gain the satisfaction of knowing that you are helping to educate millions and billions of individual cells (which really amounts to only a fraction of a person since it is estimated that the brain contains somewhere between 80-120 billion nerve cells (neurons), and neurons only make up about 50% of the cells in a human brain). Oh, and if you so request, we might include you in a future adventure (or maybe a past one).
Or, just click on one of the ads on our site. We'll get a few pennies, and there's no obligation for you, guaranteed or your money back!
Thanks for reading, and we hope you're not too traumatized after your visit.
---