---
---
'under siege' Tagged Entries
View All Tags
3 Entries on This Page
3 Tagged Entries
In 1992 George and Neal starred in the blockbuster action hit "Under Siege". George starred as the ex-Navy SEAL turned cook who must protect an aircraft carrier from a group of mercenaries. Neal starred as the helpless stripper that jumped out of a birthday cake at the wrong time.
George and Neal in their respective roles for the blockbuster hit, "Under Siege". Do a search - Neal's picture is all over the internet for this scene.
Photo by: George
Riding the success of their 1992 appearance in Under Siege, George and Neal opened a cake delivery business called "Under Siege 2: Dark (Chocolate) Territory". George would bake the cakes and deliver them and Neal would jump out of them. This was a very successful business until August, 1998, when Neal believed he was being sent to a bachelorette party. At the designated time Neal leaped out of the cake and began shaking his stuff while bills got stuffed into his speedo. After about 10 minutes Neal realized that the laughs were slightly deeper than what he would expect from a bachelorette party. Upon wiping the whipped cream from his eyes Neal realized he was actually at Jerry Falwell's 65th birthday party and Mr. Falwell was just about to stuff another $20 into Neal's G-String. Neal shouted and ran, closely followed by a mob of seniors stuffing change down his coin slot, toward the door yelling for George to "Start the van! Start the van!" Neal escaped with a whopping $1,642.63 in those 10 short minutes, not including the roll of quarters he kept stuffed in his banana hammock.
Taken just seconds before Neal took off running, much to Jerry and Pat's disappointment.
Photo by: George
After Neal claimed to be in the first "selfie", George decided to both photobomb that "selfie" and then one-up Neal (because that's what he does). So in 1433 George joined the Early Netherlandish master Jan van Eyck in painting "Portrait of Two Men (Selfie?)". The painting is widely regarded as the first ever western panel self portrait, or "selfie".
3 days of sitting there while van Eyck painted and he never once offered George a cool turban.
Photo by: George
Not to be undone (because that's what he does), Neal went all the way back to 1365 BCE where he managed to get Egyptian pharaoh Akhenaten's chief sculptor Bak to include him in the first ever self portrait. Of course he had to pose as Bak's wife, and of course, George had to photobomb (sulpturebomb?) Neal's accomplishment (because that's what he does).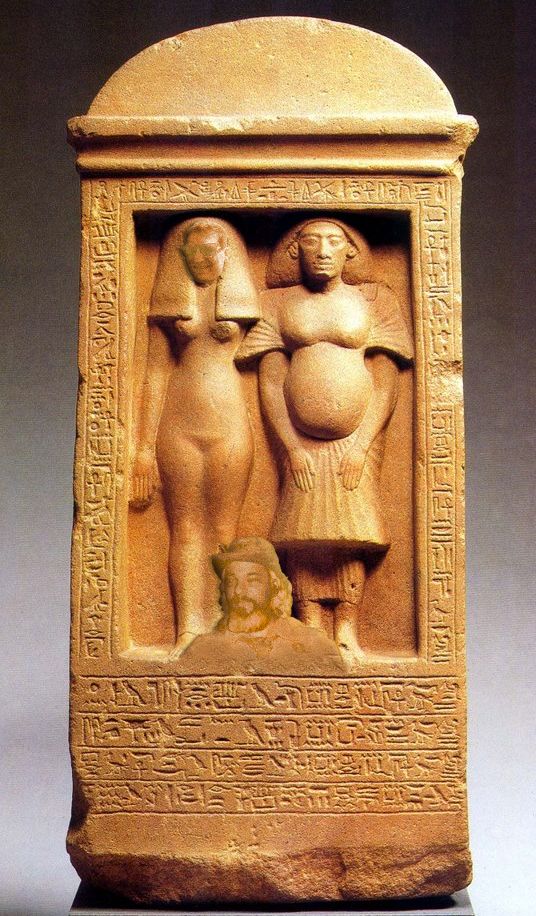 Neal hasn't had a figure like that since, well, since that time he jumped out of the cake for that Under Siege movie.
Photo by: George
After going back further and further, appearing in ancient paintings, sculptures, and cave drawings George and Neal decided they were just being silly. They had a time machine, why not share in the accomplishment of being in the first ever selfie. So they travelled back to 72,443,018 BCE and took a selfie together. And of course they were photobombed by a few dinosaurs (because that's what they do).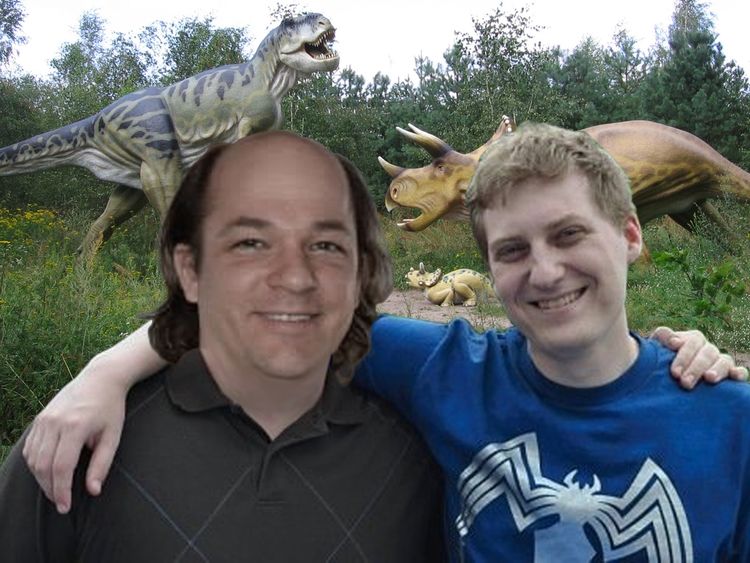 We seriously had no idea those dinosaurs were back there. Gee, the things you find when you develop your film...
Photo by: George
---
The Grand Saga of George and Neal's Adventures through Time and Space (and Pudding)! is fully supported by... Well, nothing currently. We recently added ads (is that redundantly repetitive?) to our site in the hopes that we can earn a little bit of cash to pay to keep this site running. You see, all the piles and piles of money we make through our various business ventures, inventions, good fortune, and, ahem, other various schemes goes right back into funding for more research, travels, lawsuits, and general debauchery. So you see, there's nothing really left to keep this website going.
So, if you feel so inclined, you may graciously donate your organs, blood, or other bodily fluids to keep our website going. Or you could just send us a few bucks via PayPal, we're pretty easy like that (that's what she said). In return you'll gain the satisfaction of knowing that you are helping to educate millions and billions of individual cells (which really amounts to only a fraction of a person since it is estimated that the brain contains somewhere between 80-120 billion nerve cells (neurons), and neurons only make up about 50% of the cells in a human brain). Oh, and if you so request, we might include you in a future adventure (or maybe a past one).
Or, just click on one of the ads on our site. We'll get a few pennies, and there's no obligation for you, guaranteed or your money back!
Thanks for reading, and we hope you're not too traumatized after your visit.
---