---
---
'new coke' Tagged Entries
View All Tags
2 Entries on This Page
2 Tagged Entries
On April 23, 1985, Coca-Cola changed its formula and released the New Coke. Not to be outdone, George and Neal intentionally altered their DNA to create New George and New Neal. Much like the New Coke, the response was overwhelmingly negative, and the original George and Neal were back on the market in less than 3 months (though secretly, much like the New Coke, many thought New George and Neal tasted better).
After the reintroduction of Original George and Neal, popular opinion surrounding them skyrocketed. Countless nations (including the kingdoms of England, the Netherlands, and Talossa) proclaimed George and Neal their Kings. This, too, led to its own set of problems, as George, bitter at the idea of having to share his kingdoms with an equally awesome and well-endowed genius, plotted to overthrow Neal. Neal did the same. Luckily, they were able to resolve their differences over a three-day game of Tic-Tac-Toe-Two.
In 1904, just one year after Elmer Riggs published his paper stating that Apatosaurus and Brontosaurus were the same creature, George and Neal discovered the skeleton of a brand new sauropod during an archeological dig in Turkey Creek Canyon near Morrison, Colorado. While significantly smaller than Apatosaurus, George and Neal's discovery was interesting in the fact that it appeared to be bipedal and was discovered alongside what appeared to be a petrified outfit, consisting of a vest, gloves, and even a ray gun. To add to people's confusion they decided to name their new discovery "Brontosaurus II", or, more affectionately, Bronto Thunder. Over the next few years they discovered a wide range of heavily armed, bipedal dinosaur fossils. These discoveries were largely ignored (and openly ridiculed) by the scientific community, even though George and Neal used their time machine to travel back to 78,000,543 BCE to learn more about these fascinating creatures, bring them back to the present day, and join them on all sorts of wacky adventures. Finally, in 1987 The Coca-Cola Company took notice of George and Neal's publications in Paleontology Today, and decided to animate the adventures. Dinosaucers aired for one season in 1987 and 1988, adding to The Coca-Cola Company's list of '80s achievements, which also included New Coke (aka Coke II), Diet Coke, Cherry Coke, and Coca-Cola Telecommunications.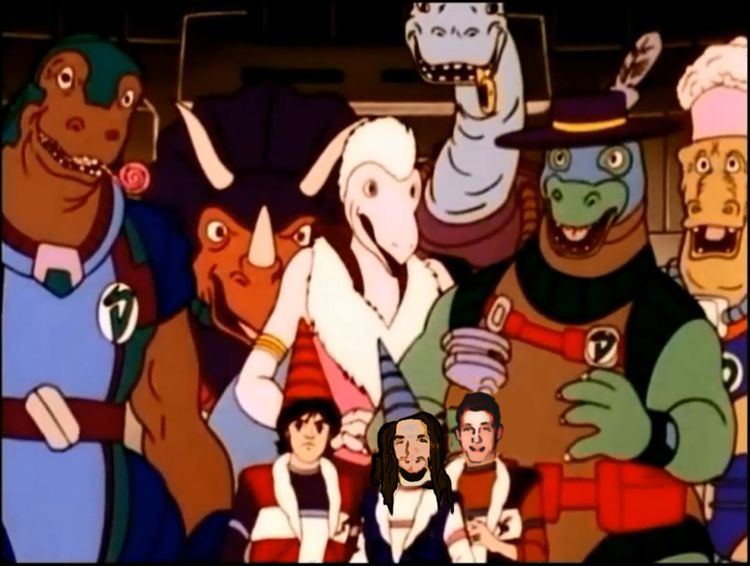 Coca-Cola Communications insisted on including Clem (on the left) in the animated series. George and Neal responded with "Who?"
Photo by: George
---
The Grand Saga of George and Neal's Adventures through Time and Space (and Pudding)! is fully supported by... Well, nothing currently. We recently added ads (is that redundantly repetitive?) to our site in the hopes that we can earn a little bit of cash to pay to keep this site running. You see, all the piles and piles of money we make through our various business ventures, inventions, good fortune, and, ahem, other various schemes goes right back into funding for more research, travels, lawsuits, and general debauchery. So you see, there's nothing really left to keep this website going.
So, if you feel so inclined, you may graciously donate your organs, blood, or other bodily fluids to keep our website going. Or you could just send us a few bucks via PayPal, we're pretty easy like that (that's what she said). In return you'll gain the satisfaction of knowing that you are helping to educate millions and billions of individual cells (which really amounts to only a fraction of a person since it is estimated that the brain contains somewhere between 80-120 billion nerve cells (neurons), and neurons only make up about 50% of the cells in a human brain). Oh, and if you so request, we might include you in a future adventure (or maybe a past one).
Or, just click on one of the ads on our site. We'll get a few pennies, and there's no obligation for you, guaranteed or your money back!
Thanks for reading, and we hope you're not too traumatized after your visit.
---